Jeep unveils it's first Full Electric Vehicle, slated for 2023 Launch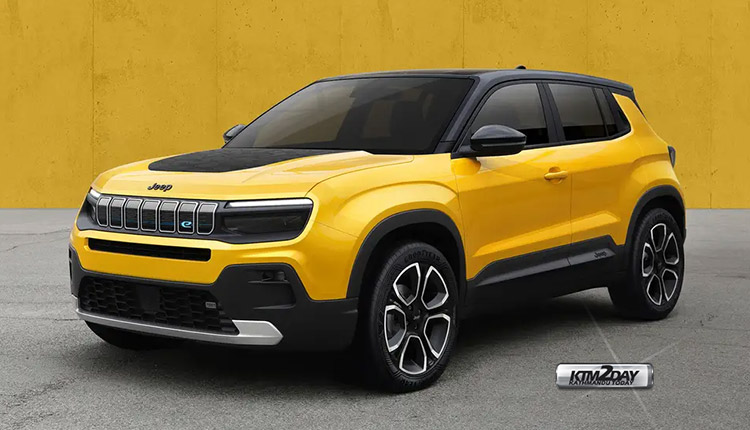 Stellantis, Jeep's parent company, revealed on Tuesday that the brand's first all-electric SUV will be on the market in 2023.
During a presentation in Amsterdam on Tuesday, Stellantis spelled out its business strategy for the next few years. A huge shift to the production of clean electric vehicles is essential to that objective.
Also Check : Jeep Gladiator Overland Launched In Nepali Market
The conglomerate, which owns a bevy of brands like Chrysler, Dodge, Maserati, and Fiat, didn't provide any information on the future Jeep electric vehicle (EV). But thanks to a few teaser photographs Stellantis shared, we have a good idea of what it will look like.
The seven-segment grille and aggressive, hefty appearance are trademarks of the Jeep brand. As opposed to standard placement, the SUV's door handles are located on top of its windows rather than at the bottom. We don't know the exact size of the yet-to-be-named SUV until the company reveals additional details, but it appears to be in between the Jeep Compass and the Renegade.
Similarly, factors such as range, horsepower, and price are all unanswered at this stage. Stellantis did not say where the EV will be offered when it goes on sale in the first quarter of next year, and a spokesman did not immediately respond to a comment request.
It was announced on Tuesday that two new Jeep models, an off-road utility vehicle and a family SUV, will be released in 2024. As a concept, a Jeep Wrangler with a battery pack was shown off last year.
There will be at least 25 all-electric Ram models available by 2030, according to the automaker's plans, including a Ram Promaster van in 2023 and a Ram 1500 pickup truck in 2024. Other major automakers, like Ford, Volkswagen, and GM are following Tesla's lead and investing tens of billions of dollars to reposition themselves as electric vehicle (EV) makers.