Nepal, India agree to build 490 MW Arun 4 Hydropower project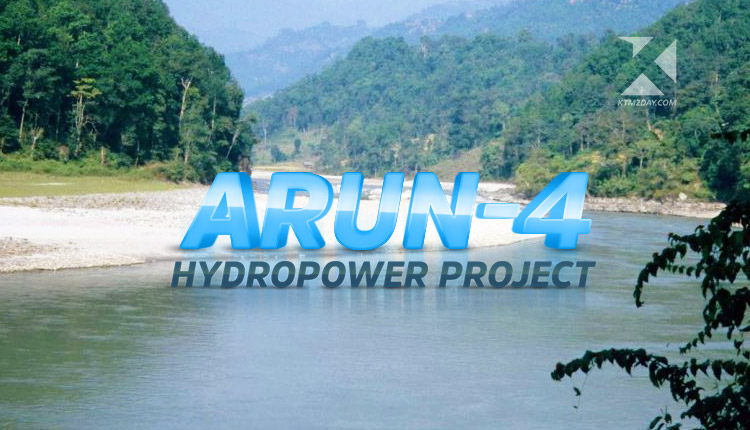 Nepal Electricity Authority (NEA) and Sutlej Hydropower Corporation, a joint venture of the Central Government of India and the Government of Himachal Pradesh, have signed a Memorandum of Understanding (MoU) to jointly construct the Arun-4 semi-reservoir hydropower project on the Arun River in Sankhuwasabha.
In the presence of Prime Minister Sher Bahadur Deuba and his Indian counterpart Narendra Modi, NEA Executive Director Kulman Ghising and Sutlej Chairman and Managing Director Nandlal Sharma signed the MOU on Monday.
During Prime Minister Deuba's visit to India in April 2022, the Prime Ministers of the two nations signed a joint vision paper on cooperation in the energy sector. The construction of Arun-4 is being carried out with the investment of government-owned enterprises.
The semi-reservoir project will be built upstream of the planned Sapta Koshi High Dam project and downstream of the Arun-3 Hydroelectric Project, which is still being constructed.
The dam will be built about 34 km upstream, and the powerhouse will be built about 7 km upstream from Tumlingtar Airport.
India has agreed to build Lower Arun (Arun 4) according to all the regulations set forth for the 900 MW Arun III project.
The agreement about Arun III says that the Indian company will pay Nepal INR 330 billion in royalties for 20 years.
The project will also give Nepal 152 MW, or 21.9%, of the electricity it makes for free, in addition to giving the local people their project shares and giving free energy to the people who live in the project's affected areas.
At the signing of the agreement on Monday, Ghising said that the NEA will own 49 percent of the Arun 4 project, with 10 percent going to the local people who will be affected by it and 15 percent going to the general public.
He said that the project's feasibility report will be looked at in the next 90 days, and that the detailed project report and the environmental impact assessment report will be finished in the next 18 months.
At a meeting in January 2021, the Investment Board of Nepal (IBN) decided to give the contract to the Indian company using the Build, Own, Operate, and Transfer (BOOT) model.
Earlier, Power China, which is owned by the Chinese government, showed interest in building the hydropower project.
The Chinese company had even signed a Memorandum of Understanding with the IBN to develop the project.
But the Chinese company backed out of building the project because it didn't like how the government promoted it at the Investment Summit in March 2019.
The installed capacity of the Lower Arun project will be 490.2 MW. The project is expected to cost around Rs 79.12 billion for construction.