Saurya Airlines resumes operation with new management on board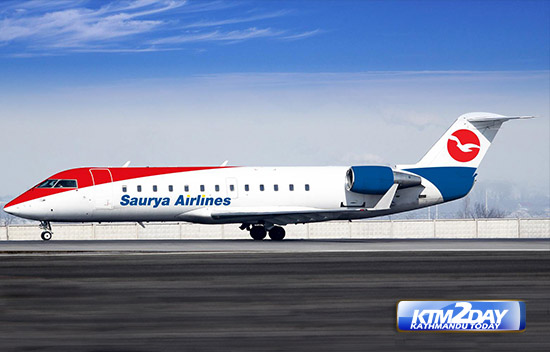 Saurya Airlines, a private owned domestic carrier has resumed operations after new management has taken command of the company which had earlier fallen into economic crisis.
The airline operates 2 CRJ-200 series aircraft to Biratnagar, Nepalgunj, Bhadrapur, Bhairahawa and Dhangadhi. Saurya Airlines has permission to operate 7 daily flights across these destinations.
After continuous contradiction in its flight, people traveling to and from these destinations with Saurya were facing difficulty.
After the change in management the company is now owned by businessman from China named Shyam Adhikari with another stakeholder Dr. Duman Thapa.
Saurya started chartered flights back in 2071 B.S. and the airline was permitted to operate daily flight from 2074 B.S.
Saurya Airlines is planning to expand its Bombardier regional jet fleet with the addition of a maiden CRJ-700 later this year.
An airline representative said the aircraft would arrive by the end of November adding to a pair of CRJ-200s already in service on flights throughout the Himalayan kingdom.
At present, Shree Airlines (N9, Kathmandu) is the only other operator of the CRJ-700 in Nepal employing a single jet.