South Korean joint venture company Yooshin and Pyunghwa to conduct DPR of Fast Track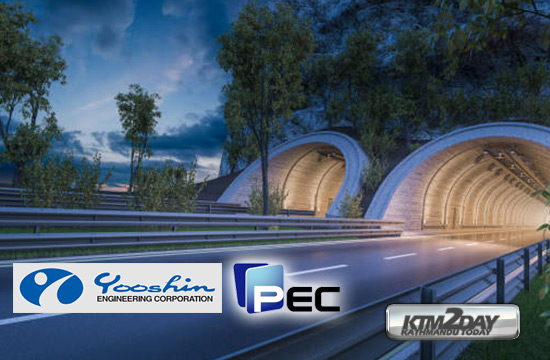 Nepali Army (NA) has decided to award the contract to conduct detailed project report (DPR) of 76.2-kilometre-long Kathmandu-Tarai Fast Track to South Korean joint venture company Yooshin Engineering Co. and Pyunghwa Engineering Consultants Ltd., on Tuesday.
"We plan to sign the contract with the Korean company within this month," informed Brigadier General Gokul Bhandari, who is the spokesperson for Nepali Army.
While the Korean JV company will have to submit the DPR within four months of signing the agreement, the project is expected to be completed four years after that.
Earlier, the government had handed over the task of conducting DPR to an Indian firm, Infrastructure Leasing & Financial Services (IL&FS). It had completed the DPR study in 2015 and sought Rs 2.37 billion in compensation. But the subsequent government decided to scrap the earlier agreement with IL&FS due to various disputes, and handed over the entire project to Nepali Army.
On June 15, the NA had short-listed six international bidders to prepare a new DPR. The bidders included AF Consult of Switzerland; Louis Berger Consulting India; Meinhardt Hong Kong of China; SMEC International of Japan; Soosung Engineering China, and Yooshin and Pyunghwa Korea.
Owing to never-ending dispute regarding land compensation at Khokana and Bungamati, which are the starting points of the project, Nepali Army had even proposed changing the alignment of the project on July 20.
The indigenous Newar communities of Khokana and Bungamati in southern Lalitpur are concerned about the damage to their property, land and cultural rights due to construction of the expressway.
Bhandari said that NA is still in the process of negotiating with the affected communities.
The proposed new alignment will pass through Farsidol, which is five kilometres south from the current route via Khokana and Bungamati. But the government has not yet decided on NA's proposal.
NA has been assigned full responsibility to carry out the Fast Track project, which it has segregated into three segments. Out of the 76.2-kilometre-long expressway, it plans to construct 17 km on its own, hire dependable Nepali contractors for 37 km of the stretch and sign up foreign contractors for the remaining 22.2 km of tunnel and bridge sections.
Though only a width of 25 metres of the Fast Track will be metalled, NA has cleared a breadth of 30 metres. Of the total length, 4.9 km of the Fast Track will lie in Kathmandu district, 7.9 km in Lalitpur, 56.7 km in Makawanpur and 7.6 km in Bara.