Winter Clothes sales rises as the mercury dips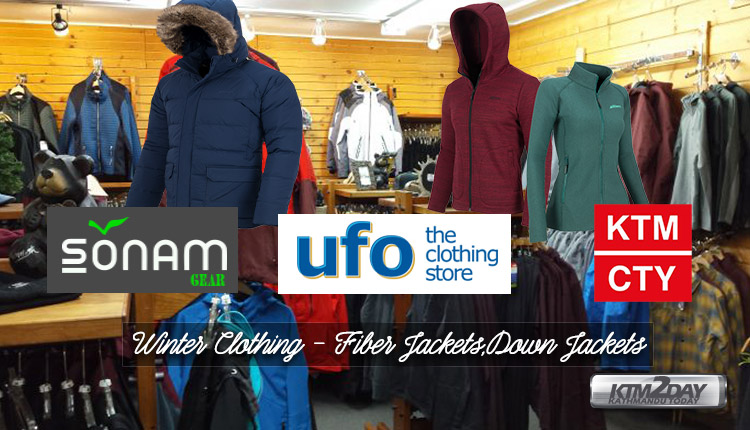 Sales of winter clothes start to rise as the mercury plunges, and the recent shivery weather proved a bonanza for sellers of jackets, sweaters, mufflers and gloves.
The Meteorological Forecast Division reported that Monday was the coldest day of the year so far in the Kathmandu Valley.
On Thursday morning, the minimum temperature reached 5.6 degrees Celsius. The weathermen have predicted colder weather ahead, and apparel dealers are preparing for good business.
"Sales of winter clothes are expected to swell 15 percent this year," said traders. The winter season in the Valley, when temperatures fall below zero degree Celsius, extends from November till February.
Sales of winter wear, such as overcoat, jacket, sweater, muffler, thermal set, gloves, woollen cap and boots make a big contribution to the annual income of most clothing stores as they are costlier compared to summer clothes.
According to the import data of the Department of Customs, the country imported jackets, blazers and coats valued at Rs140.93 million in last fiscal year 2017-18. Nepali traders import winter wear mainly from China, India, Thailand and Vietnam.
The number of winter wear buyers has increased in recent days, said a jacket shop owner on New Road. As the mercury continues to drop, many people will need to go for 'real winter shopping', said a winter garment trader at Bhotahiti.
Rakesh Shrestha of Baneshwor plans to buy a thermal set and a heavy puffer jacket this winter. Shrestha, who is a college student, said the mornings were colder this year compared to last year. He added that prices of winter wear had also increased some.
Sonam Gear, a Nepali winter wear manufacturer, expects sales to increase with the cold. "We launch products in new designs every year, and we have many for this year," said Jasmine Tamang, an official at Sonam Gear. Its winter clothes are made using raw materials imported from China, Bangladesh and Thailand, she said. Sonam Gear products cost from Rs3,000 to Rs17,000. The company offers a 20-60 percent discount.
Suman Pradhan, a UFO shop owner at Baneshwor, said demand for long jackets had swelled this year among youngsters. According to him, the price of a long jacket is Rs5,200. Sales of winter wear are normal this year, he said.
KTM CTY plans to introduce fibre jackets for men and women next week. The jacket will cost around Rs1,500, said a sales girl. The company sells jackets, down jackets, high neck shirts, round necks, mufflers, caps and Buff headwear in different sizes and colours.
The clothes are designed and manufactured in Nepal. They come in various fabrics and styles to suit the preferences of customers in the Kathmandu Valley. Jacket prices start at Rs690 and prices of woollen T-shirts start at Rs290.