Vivo Sales Carnival kicks off from 16 Dec – Jan 1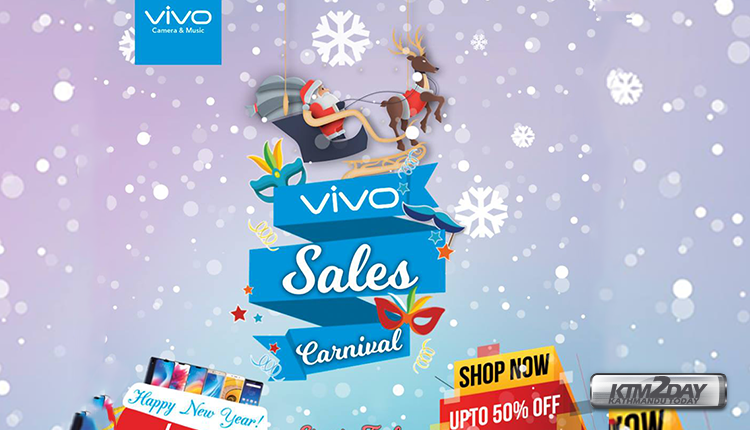 The Vivo Sales Carnival is now live to mark Vivo first year anniversary in Nepali market.
The Vivo sale will run from 16 December to 1 January 2019 and will be available through out all Vivo Stores in Nepal.
It includes offers exclusive discounts on several handsets where customers can avail discounts from 20% to maximum of 50% on selected handsets.
This time vivo Nepal opens a heavy discount for the smartphones listed below. The discounts available are as follows:
V9 – Up to 20%
V9 Youth – Up to 20%
Y85 (only black)- Up to 15%
V7 – Up to 20%
Y65 – Up to 40%
Y53 – Up to 50%
With discounts applied, customers can purchase these handsets at the following prices.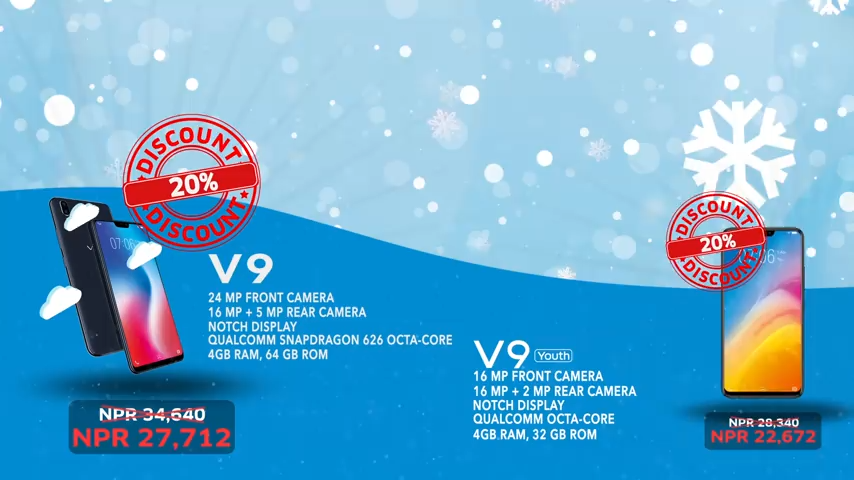 Vivo V9
CPU – Octa-Core 2.2 GHz ARM Cortex-A53
Chipset – Qualcomm Snapdragon 626 MSM8953 Pro, 64-bit Processor
GPU – Qualcomm Adreno 506
Camera – 16MP + 5MP f/2.0 with LED Flash and AF Dual Rear Camera | 24 Megapixel Front camera
Memory – RAM- 4GB LPDDR4, 933MHz | ROM 64GB, External Memory Support Up to 128GB
Display – Screen size 6.3-inches LCD IPS Display FHD+ (1080 x 2280 Pixels)
Battery – Non-Removable 3,260mAh Lithium-ion
SIM – Dual SIM (Nano-SIM + Nano-SIM), Dual Standby
Sensors – Proximity Sensor, Accelerometer, Compass, Ambient Light, Gyroscope, Fingerprint ID (Rear Mounted)
Color – Gold, Black
Operating System – Funtouch OS 4.0 (Android 8.1 Oreo)
Vivo V9 – Sales Carnival Price : Rs. 27,712
Vivo V9 Youth
CPU – Octa-Core 1.8GHz Cortex-A53 CPU Clock
Chipset – Qualcomm Snapdragon 450 SDM450, 64-bit Processor
GPU – Qualcomm Adreno 506 GPU
Camera – 16 Megapixels + 2 Megapixel with LED Flash and AF Dual Rear Camera | 16 Megapixel f/2.0 Front camera
Memory – RAM- 4GB LPDDR3, 933MHz | ROM 32GB, External Memory Support Up to 256GB
Display – Screen size 6.3-inches LCD, IPS Display FHD+ (2280 x 1800 Pixels)
Battery – Non-Removable 3,260mAh Lithium-ion
SIM – Dual SIM (Nano-SIM + Nano-SIM), Dual Standby
Sensors – Proximity Sensor, Accelerometer, Compass, Ambient Light, Gyroscope, Fingerprint ID (Rear Mounted)
Color – Champagne Gold, Pearl Black
Operating System – Funtouch OS 4.0 (Android 8.1 Oreo)
Vivo V9 Youth –  Sales Carnival Price : Rs. 22,672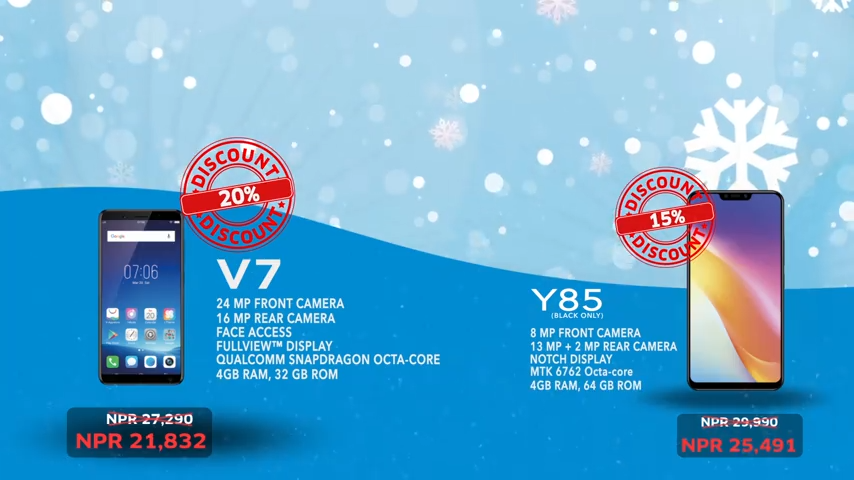 Vivo V7
CPU – Octa-core 1.8GHz Cortex-A53 CPU Clock
Chipset – Qualcomm Snapdragon 450, 64-bit Processor
GPU – Qualcomm Adreno 506 GPU
Camera – 16 Megapixels f/2.0 with 1.0µm pixel, LED Flash and AF Rear Camera | 24 Megapixel f/2.0 Front camera
Memory – RAM- 4GB LPDDR3, 933MHz | ROM 32GB, External Memory Support Up to 256GB using MicroSD
Display – Screen size 5.7 inches IPS, LCD, HD+ Display (1440 x 720 Pixels)
Battery – Non-Removable 3,000mAh Lithium-ion
SIM – Dual SIM (Nano-SIM + Nano-SIM Card), Dual Standby
Sensors – Accelerometer, Ambient Light Sensor, Proximity Sensor, E-compass, Fingerprint Scanner (Rear Mounted)
Color – Champagne Gold, Matte Black
Operating System – Funtouch OS 3.2 Powered Android 7.1.2 Nougat OS
Vivo V7 –  Sales Carnival Price : Rs. 21,832
Vivo Y85
CPU – Octa-Core 1.8 GHz ARM Cortex-A53
Chipset – Mediatek MTK6762, 64-bit Processor
GPU – Qualcomm Adreno 506
Camera – 13MP + 2MP f/2.0 with LED Flash and AF Dual Rear Camera | 16 Megapixel Front camera
Memory – RAM- 4GB LPDDR4, 933MHz | ROM 64GB, External Memory Support Up to 128GB
Display – Screen size 6.26-inches LCD IPS Display FHD+ (1080 x 2280 Pixels)
Battery – Non-Removable 3,260mAh Lithium-Polymer
SIM – Dual SIM (Nano-SIM + Nano-SIM), Dual Standby
Sensors – Proximity Sensor, Accelerometer, Compass, Ambient Light, Gyroscope, Fingerprint ID (Rear Mounted)
Color – Champagne, Black
Operating System – Funtouch OS 4.0 (Android 8.1 Oreo)
Vivo V7 –  Sales Carnival Price : Rs. 25,491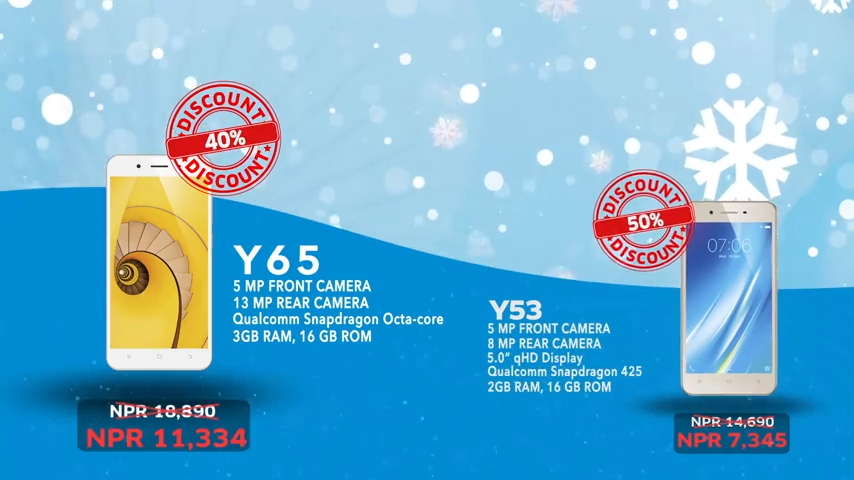 Vivo Y65
CPU – Quad-Core 1.4GHz ARM Cortex-A53 CPU Clock
Chipset – Qualcomm Snapdragon 425 MSM8917, 64-bit Processor
GPU – Qualcomm Adreno 308, 500 MHz GPU
Camera – 13 Megapixels f/2.2 with LED Flash and AF Rear Camera | 5 Megapixel Front camera
Memory – RAM- 3GB LPDDR3, 667MHz | ROM 16GB, External Memory Support Up to 256GB using MicroSD
Display – Screen size 5.5 inches IPS, LCD, HD Display (1280 x 720 Pixels)
Battery – Non-Removable 3,00mAh Lithium-Ion
SIM – Dual SIM (Nano-SIM + Nano-SIM Card), Dual Standby
Sensors – Accelerometer, Ambient Light Sensor, Proximity Sensor, E-compass, Gyroscope
Color – Gold, Rose-Gold
Operating System – Funtouch OS 3.2 Powered Android 7.1 Nougat OS
Vivo V7 –  Sales Carnival Price : Rs. 11,334
Vivo Y53
CPU – Quad-Core 1.4GHz ARM Cortex-A53
Chipset – Qualcomm Snapdragon 425 MSM8917
GPU – Qualcomm Adreno 308, 500 MHz
Camera – 8 Megapixels with LED and AF Rear Camera | 5 Megapixel Front camera
Memory – RAM- 2GB | ROM 16GB External Memory Supports Up to 256GB
Display – Screen size 5.0 inches qHD Display (540 x 960 Pixels)
Battery – Non-Removable 2,500 mAh Lithium-Polymer
SIM – Dual SIM (Nano + Nano)
Sensors – Proximity Sensor, Accelerometer, Light Sensor, Compass Sensor
Color – Gray, Gold
Operating System – Funtouch 3.0 OS (Android 6.0.1 Marshmallow)
Vivo V7 –  Sales Carnival Price : Rs. 7,345