McLaren 720S Spider shows aerodynamic flow in blue color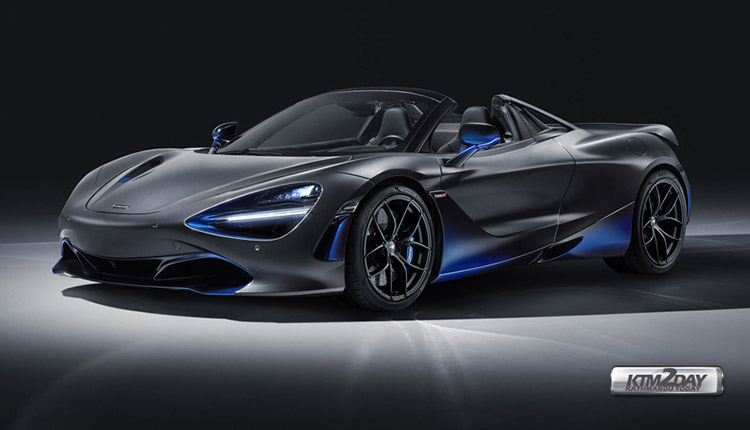 The special division of McLaren or McLaren Special Operations (MSO) has shown at the Geneva Motor Show both the 600LT Spider and McLaren 720S Spider by MSO , which stands out above all for the work in paint stuff.
According to the manufacturer, this McLaren 720S Spider reflects the 'artistic vein' of MSO, as well its numerous possibilities of personalization, and proposes a unique decoration in which various aerodynamic elements of the model are painted in a contrasted color.
These specific components for the V8 convertible shine a mixture of three special colors of MSO, denominated Coriolis, that combines blue 'Cerulean', blue 'Burton' and black 'Abyss'. The objective of these contrasting details is to highlight the key areas at the aerodynamic level and represent the air flow through the body of the vehicle.
These components, which contrast with the gray color 'Meteorite' in the specific areas of the body such as front splitter , the air intakes in the front of the hood , in front of the side panels above wheel arches, the mirrors, the lower part of the doors, the rear bumper, the rear spoiler, etc.
Added to this is a set of forged Super Lightweight wheels in MSO design with 10 spokes (19 inches front and 20 inches behind, as seen in the images), painted in glossy black 'Abyss' and with brake calipers in blue Burton.
There is also a lack of bright carbon fiber elements on the outside (diffuser, B-pillars, etc.) and, optionally, a sports exhaust or the so-called Stealth Pack, which adds a dark exhaust finish to the aero-brake mechanism, window frames, etc.
At the mechanical level there are no changes, as is usual in MSO's work, focused on personalization and aesthetic retouching, so the 4.0 liters V8 bi-turbo of 720 HP and 770 Nm of maximum torque that equips the 720S Spider series is maintained, which allows you to accelerate from 0 to 100 km/h in 2.9 seconds and reach a top speed of 341 km/h.
Finally, the interior includes Alcantara upholstery in blue 'Burton' and leather 'Jet Black' moldings and different elements of carbon fiber, key in tricolor finish to match the exterior, or the option of carbon fiber seen for the mono-hull. Optionally there are carbon seat covers , MSO inscriptions on pedals, headrests or mats, etc.