Bajaj Nepal announces festive offer "Bajaj Vabishyabani"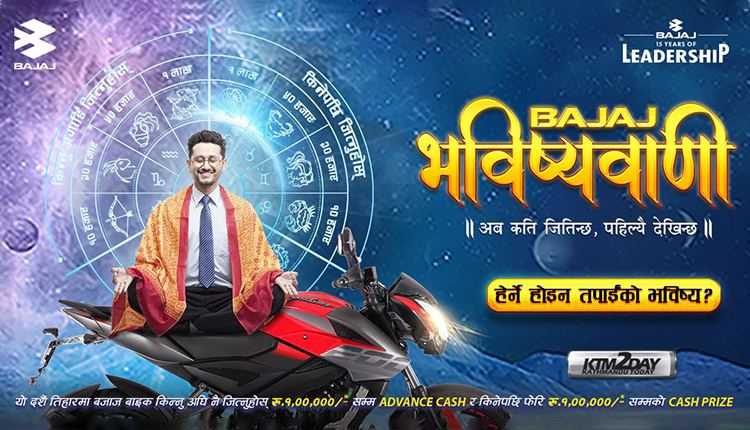 On the auspicious occasion of Dashain, Tihar and Chhath festivals, Hansraj Hulsachand and Company, the sole authorised distributor of Bajaj two-wheelers, has announced "Bajaj Vabishyabani" and a separate 'Bajaj Intracity Dimaag Damadol' schemes.
The "Bajaj Vabishyabani" with a tagline "Aba Kati Jitincha, Pahilai Dekhincha" scheme is targeted for this festive season . The scheme is targeted for customers offering exciting offers on the purchase of Bajaj two-wheelers.
Bajaj last year had also launched an extremely popular "Ulto Offer" and this year the "Bajaj Vabishyabani" offer brings exciting cash prizes for the customers. Under this scheme customers who purchase Bajaj two-wheelers will get to win exciting cash money with upto Rs 1 Lakh before and once again after the purchase.
Customers will be offered two scratch cards in total – one prior to purchase of the motorcycle and another after the purchase of their motorcycle. In both instances, customers can win a maximum of Rs 1 Lakh which will be available from any authorized Bajaj dealers countrywide .
So customers can try their luck twice in this offer to win a chance to grab upto Rs 1 Lakh in discount on this offer.
The company has also announced 'Bajaj Intracity Dimaag Damadol' with tagline 'Upahar Ra Faida Ko Esto Tolmol, Hunxa Dimaag Damadol' in a separate scheme.
The campaign name relates to the moment where one can get immense happiness through Bajaj Intracity(3-Wheeler) and the tagline states that customers will get maximum benefits along with TV free as an offer, as per a press statement.
This festive scheme comes with an offer of a 32-inch Samsung LED TV free on the purchase of Bajaj RE and Maxima C. Besides that, customers will also get warranty of up to 40,000 km or two years, two-litre Servo lubricants free and free AMC for a year. On the purchase of Bajaj RE, customers will receive life insurance of Rs two million and additional Rs 500,000 on health insurance.