Nepal's foreign exchange reserve swells to Rs 1 trillion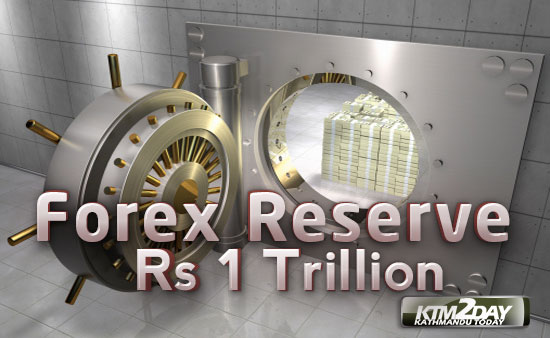 Nepal's foreign exchange reserves have crossed Rs 1 trillion for the first time as imports fell as a result of India's trade embargo, Nepal Rastra Bank (NRB) said on Wednesday.
According to the central bank's monthly report on the macro-economic situation, the foreign exchange reserves stood at Rs 1.01 trillion as of mid-February. "This is the first time the reserves crossed the Rs1 trillion mark," said Nara Bahadur Thapa, chief of NRB's Research Department.
Based on the imports trend in the first seven months of the fiscal year, the existing foreign exchange reserves can finance merchandise imports of 20.9 months, and merchandise and services imports of 17.2 months, according to the central bank.
NRB said increased remittance and foreign aid during the period contributed to the surge in the foreign exchange reserves. Of the total reserves, Indian currency accounts for 21.5 percent.
The Balance of Payments (BoP) surplus also rose to Rs154.78 billion compared to the same period a year ago. "The BoP surplus would have been this big had imports grown at the usual rate of around 15 percent seen in recent years," said Thapa.
In the first seven months of the fiscal year, imports decreased by 21.6 percent to Rs 345.83 billion due to the four-and-a-half-month embargo that began on September 22, 2015. In the same period last fiscal, the figure was at Rs441 billion.
Nepal's trade deficit also contracted by 20.9 percent to Rs 309.23 billion as a result of the fall in imports.
As far as inflation is concerned, the rate moderated to 11.3 percent as of mid-February as a result of the lifting of the embargo, easing supply. In mid-January, inflation had reached seven-year high of 12.1 percent.
While food and beverage group inflation saw a pick-up of 12.8 percent, non-food and services group prices rose by 10.1 percent as of mid-February.
Going forward, inflation rate is likely to moderate gradually following the easing of trade routes in the southern parts of the country, NRB said.