Skoda Yeti 2016 launched in Nepali market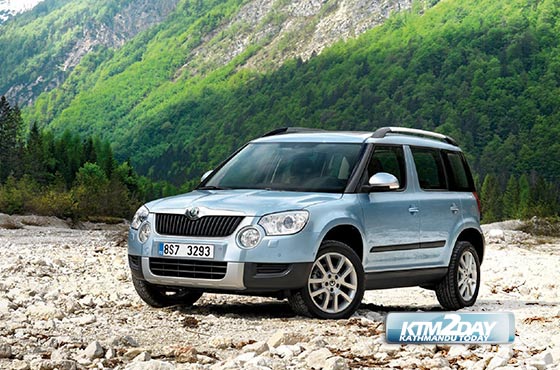 MAW Enterprises, the authorized distributor of Skoda cars in Nepal, has launched the new facelift Skoda Yeti in the Nepali market with the aim of further strengthening its presence in the growing SUV (sports utility vehicle) segment.
According to the company, the new Skoda Yeti has been brought back with a refreshed design language and improved features.
The Yeti is offered in Nepal with two diesel engine options—2.0 TDI CR/81kW 4X2 and 2.0 TDI CR/103 kW 4X4—mated to a six-speed manual transmission. It allows the driver to enjoy more power with the greatest control and low fuel consumption.
The Yeti has already proved to be fit for Nepal's roads. The facelift model features updated comfort technology and safety measures, said Suraj Manandhar, business head of Skoda division, MAW Enterprises. "It is a very practical, precise, spacious and clever vehicle. To an automotive lover, there are many things to explore within this car. It performs well both on and off-road."
The Yeti was awarded the maximum five stars in the Euro NCAP crash test in 2009 for its exceptional safety arrangements. The Yeti's result is one of the best for all vehicles tested so far. It provides an equal degree of protection for passengers of all sizes, sitting in various positions.
Systems like ABS, ESP HHC and EDL keep the vehicle stable and under control even off-road. The robust body design and state-of- the-art chassis guarantee optimum active safety.
The SUV is equipped with five three-point safety belts and five head restraints. It has six airbags—front airbags for the driver and front-seat passenger, two side-airbags in the front and curtain airbags in the front and rear. Upon activation of the airbags, the fuel supply and power supply are partially cut and all doors are unlocked.
The company said that the new Yeti embodies the unique Skoda grille and elegant Skoda badge that makes it exceptional in its segment. The Skoda Yeti comes in four different colours—Blue, White, Matto Brown and Black. It has high ground clearance and a steel plate under the engine.
The Yeti has a new three-spoke multifunctional steering wheel adjustable for height and reach. Central infotainment system, Climatronic dual zone air conditioning, leather steering with mounted controls for audio and phone, keyless engine start and stop are features that make the Yeti a premium SUV.
The Yeti 4X2 is priced at Rs7.29 million and the 4X4 costs Rs7.74 million. They are available at all authorized Skoda showrooms in Nepal.