Apple AirPods Pro, noise canceling headphones now available in Nepal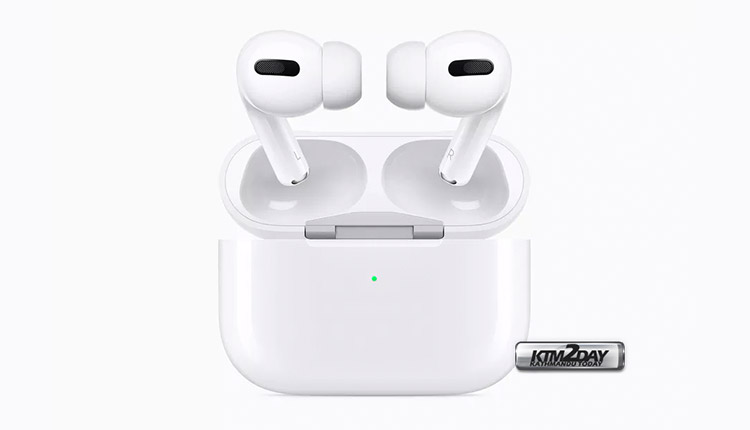 Apple has officially unveiled the new AirPods Pro in-ear headphones, which have a new design, active noise cancelling and rich immersive sound.
AirPods Pro, which are now smaller, comes into view for better accommodation in your ear. These headphones come with three different sized tips that in addition to offering greater ergonomics, offer better sound quality.
One of the key features of AirPods Pro is its active noise cancellation. For this, this gadget has two microphones combined with new software, which allows noise cancellation to be adjusted 200 times per second.
To keep you aware of your surroundings there is the new Transparency mode. With this mode on, you will continue to listen to your music while listening to your surroundings.
To switch between active noise cancellation and Transparency mode, simply touch the sensor on the AirPods Pro. The same can be done to turn noise canceling back on.
Another highlight of the AirPods Pro is in its sound quality. With what Apple calls Adaptive Equalization, this technology will automatically adjust the sound to the shape of your ear.
Apple notes that the new AirPods Pro can play audio continuously for 5 hours. However, these values ​​drop to 4.5 hours if you enable noise cancellation.
The storing case of these AirPods Pro will give you battery backup for another 24 hours of playback. This new box supports wireless charging and 5 minutes of charging will be enough for 1 more hour of playback.
Price and availability
AirPods will be available for purchase from October 30th for a price of $249 . AirPods Pro were expected to be more expensive than their predecessors, but the final price will surely delight Apple fans worldwide.
Apple Airpods Pro is now available in Nepali market at a price tag of NRs 38,500 . Interested buyers can visit the nearest Olizstore in your area.