Intel Announces 12th Gen Core Alder Lake: 22 New Desktop-S CPUs, 8 New Laptop-H CPUs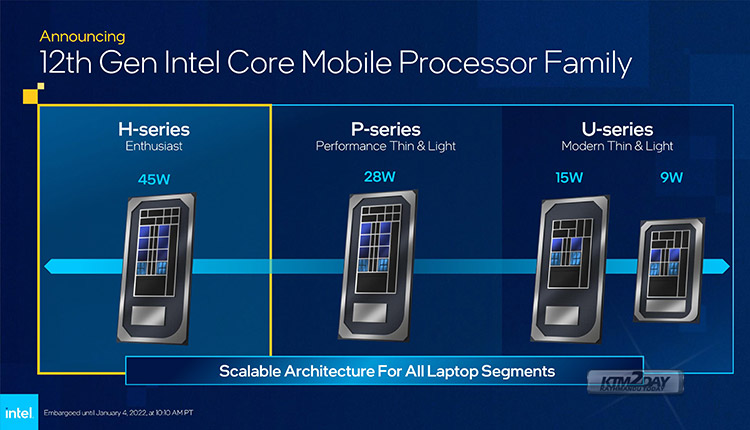 All of Intel's 12th-generation 'Alder Lake' laptop CPUs have been introduced, and the 45W H-series for gaming and creator laptops will be available in February 2022, while the 28W P-series and 15W U-series will be ready later this year for mainstream thin-and-light devices. Intel's hybrid architecture with heterogeneous cores is now available in laptops. According to the company, the Core i9-12900HK is the "world's best mobile gaming platform" and the "fastest mobile processor ever produced."
The new Core i9-12900HK CPU introduced at CES 2022 has six performance (P-cores) with Hyper-Threading and eight efficiency (E-cores) cores, resulting in a total of 20 threads. The maximum Turbo frequencies for each set of cores are 5GHz and 2.5GHz. The L3 cache is 24MB in size, and the maximum power consumption is 115W, with a 45W base rating. 96 execution units are included into the integrated Intel GPU. In comparison to the Core i9-11980HK, Intel promises a performance boost of up to 28% in games.
The Core i9-12900H, Core i7-12800H, and Core i7-12700H all have the same number of cores as the flagship CPU. The Core i7-12650H features six P-cores, but only four E-cores, as you move down the list. Four P-cores and eight E-cores may be found in the Core i5-12600H, Core i5-12500H, and the Core i5-12450H.
New P-series tiers of 45W to 64W will be targeted at consumer thin-and-light laptops. It will be available in six different configurations, ranging from the new Core i7-1280P up to the Core i3-1220P, which will have six or four P-cores, eight E-cores, and 64 to 96 EUs of integrated graphics. Core i7, Core i5, Core i3, Pentium Gold, and Celeron are among the U-series processors, which operate at 9W to 29W or 15W to 55W. As a result, these versions will be aimed at devices with ultra-portable form factors such as foldable or fanless computers running Windows or Chrome OS with either one or two P-cores and either four or eight E-cores.
This generation employs the 'Golden Cove' architecture for P-cores and 'Gracemont architecture for E-cores, respectively. Using the Intel 7 (10nm) technology, microchips are created in large quantities. Workload optimization for heterogeneous core types can be achieved using Thread Director, a new scheduler designed by Intel that works with Windows 11.
DDR5 RAM at up to 4800 MT/s or LPDDR5 with select SKUs, AI acceleration, AV1 media decoding, Wi-Fi 6e, USB 3.2 Gen2x2, and Thunderbolt 4 are all supported on the platform level.
At 65W and 35W TDP, Intel has revealed a total of 22 new non-overclockable 12th Generation socketed desktop CPUs, including the Core i9, Pentium and Celeron tier variants. Redesigned Intel Laminar coolers with RGB LED lighting effects will be included in the 65W variants.
It is expected that key manufacturers such as Asus would release new motherboards based on the Intel H670, B660, and H610 platform controller controllers to accompany these new processors.
Third-generation specifications have been added to the Intel Evo laptop design certification, the public moniker for Intel's Project Athena effort. Foldable displays will be included for the first time. Over 100 new designs based on 12th Gen Core CPUs are expected to be released by laptop manufacturers, according to Intel. In addition, models with more powerful H-series processors will be made available. Display quality, battery life, weight, connectivity, and charging speed are all guaranteed by the Intel Evo logo. Bluetooth and Thunderbolt accessories can now be certified as "Engineered for Intel Evo" thanks to a brand new program.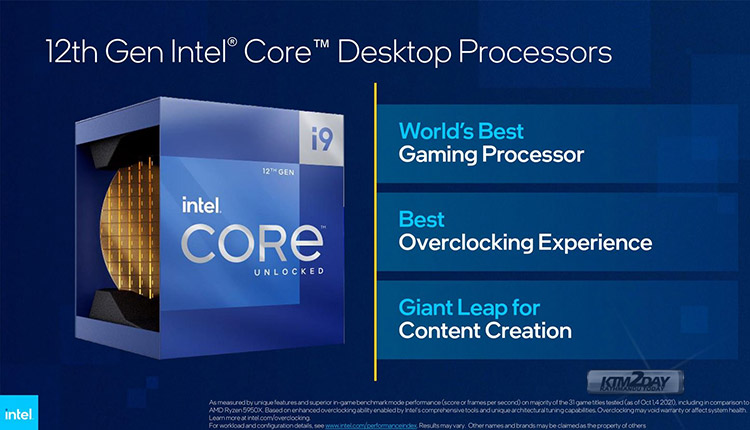 It is now possible for large businesses to remotely manage and secure large-scale PC deployments through the Intel vPro platform, which is getting new Enterprise and Essentials tiers. A set of Project Athena targets for design and performance will be applied to desktop PCs with vPro-enabled CPUs in order to improve workspace security, privacy, and sustainability.
Intel 12th Gen Core, Alder Lake
Cores
P+E
E-Core
Base
E-Core
Turbo
P-Core
Base
P-Core
Turbo
L3
MB
IGP
Base
W
Turbo
W
Price
$1ku
Core i9
i9-12900K
8+8
2400
3900
3200
5200
30
770
125
241
$589
i9-12900KF
8+8
2400
3900
3200
5200
30
–
125
241
$564
i9-12900
8+8
1800
3800
2400
5100
30
770
65
202
$489
i9-12900F
8+8
1800
3800
2400
5100
30
–
65
202
$464
i9-12900T
8+8
1000
3600
1400
4900
30
770
35
106
$489
Core i7
i7-12700K
8+4
2700
3800
3600
5000
25
770
125
190
$409
i7-12700KF
8+4
2700
3800
3600
5000
25
–
125
190
$384
i7-12700
8+4
1600
3600
2100
4900
25
770
65
180
$339
i7-12700F
8+4
1600
3600
2100
4900
25
–
65
180
$314
i7-12700T
8+4
1000
3400
1400
4700
25
770
35
99
$339
Core i5
i5-12600K
6+4
2800
3600
3700
4900
20
770
125
150
$289
i5-12600KF
6+4
2800
3600
3700
4900
20
–
125
150
$264
i5-12600
6+0
–
–
3300
4800
18
770
65
117
$223
i5-12600T
6+0
–
–
2100
4600
18
770
35
74
$223
i5-12500
6+0
–
–
3000
4600
18
770
65
117
$202
i5-12500T
6+0
–
–
2000
4400
18
770
35
74
$202
i5-12400
6+0
–
–
2500
4400
18
730
65
117
$192
i5-12400F
6+0
–
–
2500
4400
18
–
65
117
$167
i5-12400T
6+0
–
–
1800
4200
18
730
35
74
$192
Core i3
i3-12300
4+0
–
–
3500
4400
12
730
60
89
$143
i3-12300T
4+0
–
–
2300
4200
12
730
35
69
$143
i3-12100
4+0
–
–
3300
4300
12
730
60
89
$122
i3-12100F
4+0
–
–
3300
4300
12
–
58
89
$97
i3-12100T
4+0
–
–
2200
4100
12
730
35
69
$122
Pentium + Celeron
G7400
2+0
–
–
3700
–
6
710
46
–
$64
G7400T
2+0
–
–
3100
–
6
710
35
–
$64
G6900
2+0
–
–
3400
–
4
710
46
–
$42
G6900T
2+0
–
–
2800
–
4
710
35
–
$42