Online Shopping sites to launch festive offers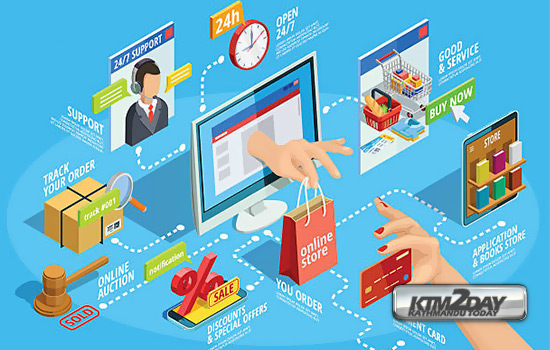 E-commerce platforms are reshaping shopping trends in Nepal, with most platforms offering brands at competitive prices. And with the festive season round the corner, online shopping platforms like Daraz.com, Sastodeal.com and Urban Girl are planning to introduce offers and schemes to boost sales.
The trend of online shopping is growing in the country as people want to avoid traditional shopping which is fraught with dealing with crowds, pollution and haggling over prices. E-commerce sites are eager to attract such customers during the festive season when the demand for various commodities spikes.
Also read – China's Alibaba Group acquires Daraz
According to Kiran Timsina, co-founder at Urban Girl, Dashain has always been a strong sales season for brick-and-mortar stores as people prefer to get their hands on the product before buying. "However, in the last few years, more and more people are doing their shopping online instead of physically visiting a store," he said.
Similarly, Rajeev Amatya, managing director at Daraz.com said that the company has forecast strong growth—up to five times—in the business compared to last year. "Most buyers start buying early on e-commerce sites because it can take few days for delivery," he said. "Daraz.com receives double the number of orders during the festival season."
To give customers value for their money, these online shopping sites are coming up with various offers and schemes. Sastodeal.com will be launching their festival campaign soon, according to the company. "We have incorporated all the elements for online shoppers to make their online shopping experiences the best during Dashain," said Prajwol Ratna Tamrakar, marketing manager of Sastodeal.com . "We will be offering huge discounts on all categories of goods."
Similarly, Daraz.com will be running Dashain campaign from October 8-12. "There will be discounts on all major categories from all major sellers," said Amatya. "We will also be offering site-wise discounts in the form of vouchers." Timsina of Urban Girl said that the company has been targeting sales of clothes and electronics this Dashain with a series of campaigns. The company is even launching a new website and internal management system. We have a series of campaigns and offerings, not only till Dashain, but till the end of 2018, according to Timisina.
According to Amatya, e-commerce businesses in Nepal conduct transactions worth $25 million a year. Some of the best selling products during the festive season are apparel, electronic appliances and home organisation products.