Nokia 220 4G and Nokia 105 Feature Phones refresh launched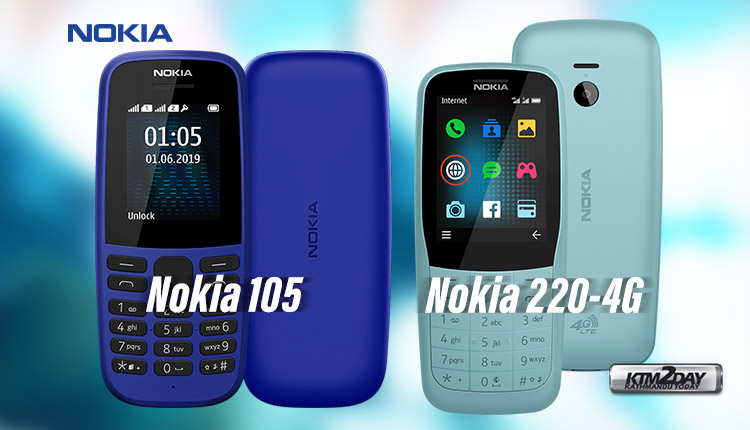 HMD Global is once again trying to prove that the user base of push-button Nokia mobile phones remains large enough to ignore.
Today, the Nokia 220 4G smartphones, which is the 4G version of the Nokia 220 released in 2014, and the Nokia 105, an updated version of the handset introduced in 2017, were presented . These handsets will be on sale next month.
Nokia 220 4G comes in a polycarbonate case, a 2.4-inch screen with a resolution of 160 x 120 pixels, 16 MB of RAM and 24 MB for data storage, and will be available in three color options.
The phone runs on Nokia Series 30+ operating system (OS) and will come with pre-installed Facebook and Twitter applications, as well as support for fourth-generation networks.
Nokia 220 was first launched in 2014 and the new Nokia 220 4G is its first refresh. As the name suggests that new model brings 4G support, but there are a number of other changes as well.
Among other handy features the Nokia 220 4G comes with wireless FM radio, a VGA camera, a 3.5 mm jack, a pre-installed Snake Xenzia game and a few more games from Gameloft.
A 1200 mAh battery holds a charge for up to 6 hours in talk mode and up to 27 days in standby mode.
The phone will be available in black and blue colors, it will be on sale in mid-August at a price of 39 euros which converts to roughly nepali Rs 4800.
Nokia 105 which was first launched on 2013, on the other hand comes with a 1.7-inch screen with a resolution of 160 x 120 pixels, 4 MB of RAM and the same amount of flash memory.
The Nokia 105 runs on Nokia Series 30 operating system and comes with several handy features such as FM radio, a flashlight and a 3.5 mm slot for listening to your favorite music or FM radio.

The handset now supports two SIM slots and comes with same set of powerful battery as before of 800 mAh. The battery backup will be enough to hold charge for 25 days in a standby mode and will allow you to talk for up to 14 hours.
The updated Nokia 105 will be released in blue, black and pink in mid-August at a price of 13 euros which converts roughly to nepali Rs 1600.