Samsung working on dual display smartphone design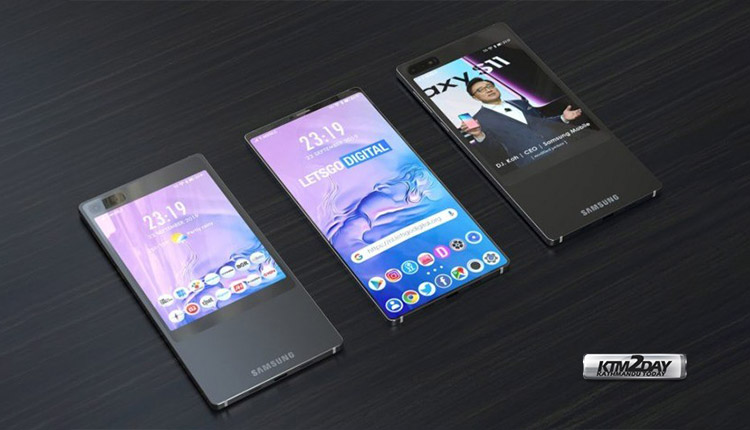 Nowadays, manufacturers have to increasingly invest in innovation and unique functionalities, to get their smartphones to achieve the desired popularity. After seeing ZTE and Vivo betting on a new approach by launching smartphones with two screens, Samsung may soon follow the same path.
According to a patent registered with USPTO (United States Patent and Trademark Office), Samsung may already be developing a smartphone that arrives equipped with two screens.
Just as we saw in Nubia Z20 and Vivo NEX Dual Display, this smartphone is expected to arrive with a main screen that occupies the vast majority of the front panel and a smaller size in its rear. With regard to the front panel, we see that it has very thin bezels surrounding the screen.
In turn, on the rear panel the patent only shows a dual camera setup, which would most likely eventually be changed to a triple or even quadruple setup if it ends up reaching the market. As for the screen on the back panel, it is considerably smaller, although it should be sufficiently large to be fully functional.
As with the two smartphones mentioned above, Samsung will also not need to worry about positioning a front camera. Thanks to the second screen, it becomes possible to use the main camera also for selfies and video-calls.
Although no reference is made in the data disclosed by the patent, it is presumed that this smartphone would arrive equipped with at least one OLED panel, where the fingerprint reader would be integrated.
However, it is important to note that we only have information revealed by a patent. Every year major brands record dozens of patents that end that fail to make up to the production line. Still, it's interesting to discover that Samsung may also be considering betting on this type of design.