Nepali economy feels chill of global crisis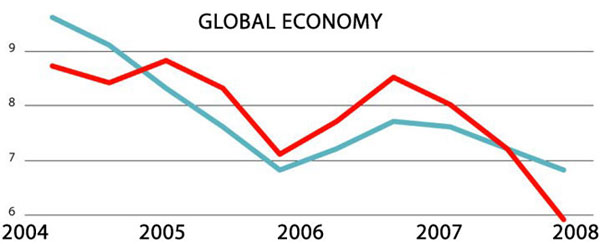 KATHMANDU, Nov 17 – Though Nepal is not closely integrated into the global economy, the ongoing world financial crisis has taken a heavy toll on commodity prices. Prices of major construction materials have dropped significantly over the past 10 weeks.
"A sharp fall in commodity prices has resulted in losses amounting to around Rs. 7 billion over the last 10 months," Rajendra Khetan, an industrialist, told a program on the global financial crisis Monday.
"Construction materials like steel, plastic and copper have plunged and laid a heavy liability on the shoulders of businessmen," added Khetan. Last year, the price of construction materials had gone up to record highs driving up building costs almost twofold.
Real estate, commodities and stocks have been most affected by the financial crisis whose epicentre is the U.S.A. Khetan warned that negative impacts would be seen in exports, remittances and tourism besides investment in big projects in Nepal as a result of the slowdown.
Prof. Bishowmbher Pyakurel, an economist, said real estate was more vulnerable to the impact of the global crisis as commercial banks had invested about 10 percent of their total portfolio in this sector. He added that foreign direct investment in Nepal would also be affected due to an adverse situation in the capital market which is the major source of capital for investors. Radhes Panta, president of the Bankers' Association, claimed that investments made by Nepali banks were not at risk as they were adhering to strict regulations and maintaining adequate transparency.
Madhukar Shamser Rana, an economist, said the global meltdown had created ideological, social and geopolitical impacts across the world.