Xiaomi's MIUI+, which integrates Android to Windows PCs, gains new features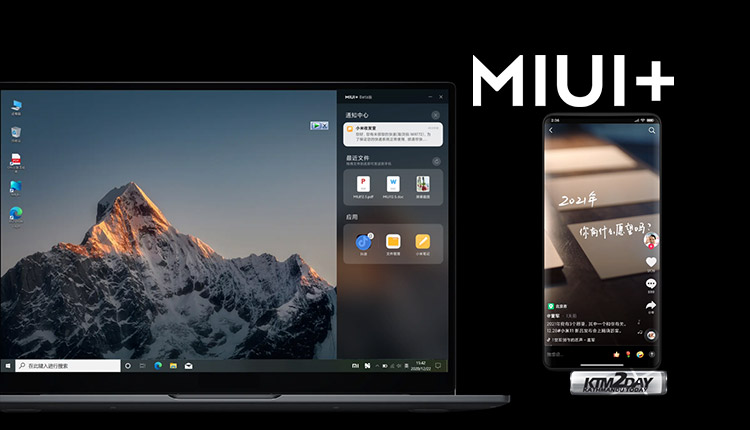 Xiaomi introduced MIUI+ last year, this software is similar to Huawei Multi-Screen Collaboration, Samsung Dex, and Microsoft's Your Phone program in windows.
Since its release, the company has improved the user experience with new features, design changes, and improvements. According to the official announcement, the service adds two useful new features. The Chinese company announced on its official Weibo account, the software has now been launched with another update this week.
The latest beta is MIUI + v2.3.1.1014, which is compatible only with some smartphones and notebooks developed by Xiaomi. The program still has support only for Chinese language and for devices with ROM from China, but now has two new functions added and is approaching its launch for global markets.
According to MIUI+'s official website, users with compatible devices can now not only resize app windows, but also use custom hotkeys. Some of the shortcuts include Alt+B to go back, Alt+H for Home, and Alt+R to switch to the latest task.
Xiaomi devices compatible with MIUI+
In the latest beta of MIUI, Xiaomi has integrated MIUI + in a wide variety of devices, letting us see which will be compatible after its arrival in the Global ROM. Among these we find the:
Xiaomi Mi 11 Ultra, Mi 11 Pro, Mi 11, Xiaomi Mi 11i, Mi 10 Ultra, Mi 10T, Mi 10T Pro, Mi 10T Lite, Mi 11 Lite 5G, Mi 10 Pro, Mi 10S, Mi 10, Mi 10 Lite Zoom, Mi 9 Pro 5G, Mi 9, Mi 9T Pro
Redmi K40 Gaming, Redmi K40 Pro/+, Redmi K40, Redmi K30S Ultra, Redmi K30 Ultra, Redmi K30 Pro, Redmi K30 5G, Redmi K30i 5G, Redmi K30, Redmi K20 Pro, Redmi 10X Pro, Redmi 10X, Redmi Note 9, Redmi Note 10 Pro and Redmi Note 9 Pro
Poco F3, Poco F2 Pro
As we can see, not all devices will support MIUI+. Usually only the mid-range or mid-high-end ones and part of the last generations are currently supported.