Ncell launches Night SMS pack at Rs. 5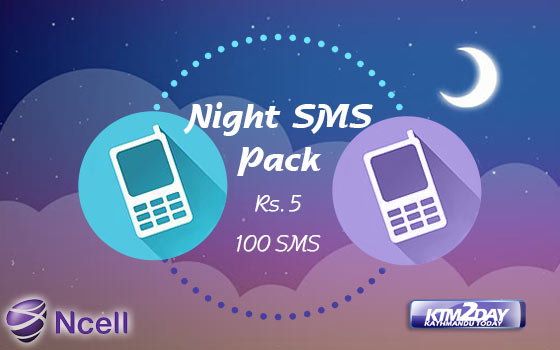 Ncell, the country's leading mobile service provider, has launched a new campaign 'Night SMS Pack' with a target to provide text message service to its customers at special tariff.
This pack enables pre-paid and post-paid subscribers to send up to 100 SMS to any other Ncell number at just five rupees (excluding tax) from 10:00pm to 6:00am every day during the campaign period, as per a media release issued on Tuesday.
The Night SMS Pack is coming into effect from Wednesday (June 15) for a period of three months.
All Ncell subscribers can easily activate this pack by dialling *17119# and following the instructions.
Customers can subscribe to the Night SMS Pack on recurring mode which will ensure that customers get the same pack automatically every day or they can subscribe the pack on one-time basis which will require them to activate the pack every day.
Night SMS pack is valid for 24 hours from the time of activation. The auto renewable packs renews every midnight.