Volvo launches PT220 Pneumatic Tyre Roller in Nepal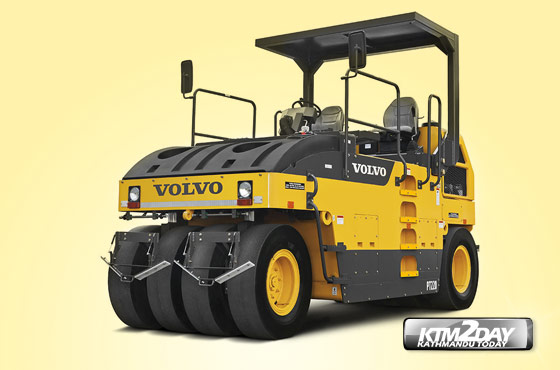 Explore Earthmovers Pvt Ltd, the authorized distributor of Volvo construction equipment for Nepal, has introduced 11-ton Volvo Pneumatic Tyre Roller in the market. The PT220 is specially developed for roadway applications and provides high-performance compaction, according to the company.
The PT220 has 135 HP German-made Volvo D5 DA3 engine, which gives the best fuel efficiency in its category and better productivity, reads a statement issued by the company. The company said that the PT220 has ample power reverse for rolling on steeper grades or higher elevations.
"This machine has overlapping tyres for complete coverage, which means that the paths of the front and rear tyres are aligned to overlap by 50mm. The PT220 offers some of the other features like hydrostatic drive, ISO-static suspension, rust proof water system, sealed ballasting compartment, better amplitude and centrifugal force range," reads the statement.
The PT220 has dual operator seats with sliding console which provides unobstructed visibility in all directions. The company has also announced introductory offer like extended warranty to the customers.