New Smartphones lined up for launch in Nepali market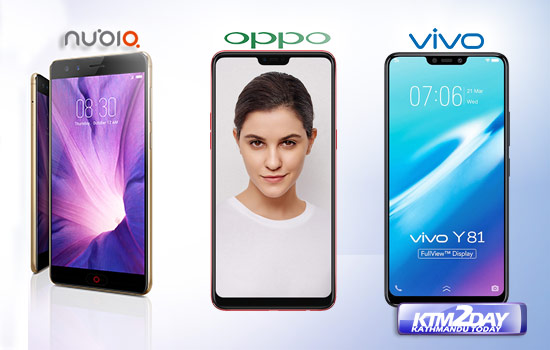 With the festive season coming up soon, smartphone dealers in Nepal are gearing up to launch new models in the market. Smartphone sales surge during festivals and mobile companies want to ride the wave by launching new devices.
Mobile companies such as Vivo, Nubia and Oppo have launched different models of smartphones in recent months and plan to introduce new smartphones soon.
Apex and Cellucity, national distributors of Vivo in Nepal recently launched new smartphone models such as Vivo Y81, V9, V9 Youth and Y71.
Vivo Y81 price is fixed at Rs24,190, V9 cost Rs37,790, V9 Youth price has been fixed at Rs28,340 and Y71 cost Rs17,890, said the company. According to them, these smartphone models are selling well in the domestic market.
Similarly, the company plans to launch a new smartphone, the Vivo Y85 in mid-August. The company is also planning to launch its flagship model, the Vivo V11, two months after the Vivo Y85 goes on sale in Nepal.
Vivo is quickly gaining market share in Nepal, with over 6,000 units sold in June. Vivo V9 and V9 Youth are their best selling smartphones.
ITP Nepal, authorised distributor of Nubia—a newly introduced smartphone brand—in the country has been selling 10 to 15 phones per day. The company is aiming to become one of the top five smartphone brands in the country within one and half years.
The company has been selling Nubia M2 Lite model at Rs19,999, Z17 Mini S model at Rs37,499 while the Z17 Mini costs Rs29,999.
According to Puskal Khatiwada, sales and marketing head at Nubia, the company will be gradually expanding its presence in different parts of the country.
Similarly, the company in collaboration with Ncell, will be offering data packs with every purchase of a Nubia smartphone.
Tele Cell, the authorised distributor of Oppo phones has also launched different models of mid-range smartphones in recent months. The company launched Oppo F7 Youth, Oppo A83 2018 and A71 2018 in recent months. According to Suraj Maharjan, public relations Head at Oppo Nepal, Oppo F7 Youth has been designed specifically to target college students.
Likewise, Oppo F7 Youth is priced at Rs31,590 while A83 cost Rs27,490 and A71 2018 model price has been fixed at Rs17,250.
The company plans to launch more mid-range and budget smartphones in Nepal soon and even hinted at a possible launch of a flagship Oppo smartphone.