Redmi TV Launched – 70 inches for just $530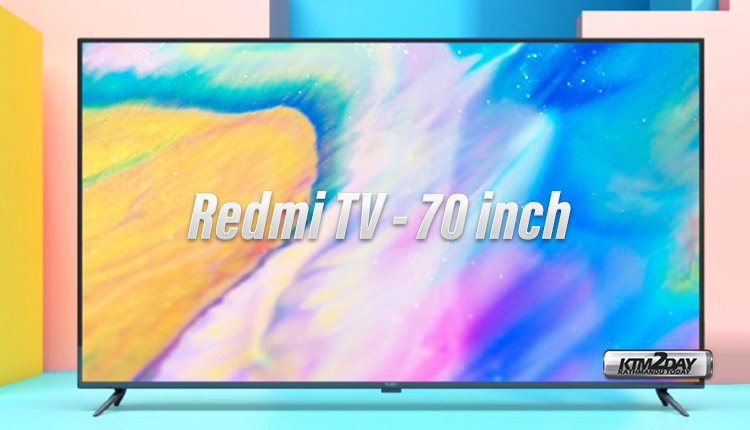 This afternoon, Redmi held a press conference at the new headquarters of Xiaomi Beijing, and the much-anticipated Redmi TV was finally unveiled.
During the presentation event of the Xiaomi Redmi Note 8 Pro, its first Smart TV — Redmi TV, was presented. Unlike Xiaomi, which offers a wide range of products in this segment, Redmi decided to focus on a single upscale model.
Redmi TV comes in only one size of 70 inch
Redmi has become extremely popular for offering extremely attractive price-quality products and is set to do exactly the same on its debut in the smart television market. Despite being an impressive 70 inches, Redmi TV will hit the Chinese market with a price of just $530, which is quite low for a Smart TV of this size.
According to Redmi, the 70-inch display area is 60% larger than 55 inches and is twice as expensive.
It's specifications will be more than sufficient to ensure optimum performance, ensuring a high quality user experience.
The Redmi TV comes with a 4K HDR panel and will have Amlogic 64-bit processor and Mali-450 MP3 graphics processor at its center. For internal memories, you can count on 2GB of RAM and 16GB of internal memory. This Smart TV also comes with Dolby Audio and DTS-HD support.
Redmi TV comes equipped with a wide variety of connectivity options, which will surely suit any use.
You'll have two types of wireless connections (WiFi Dual Band and Bluetooth 4.2) and several physical inputs:
3x HDMI ports
2x USB ports
Ethternet Port
S / PDIF
AV
Besides being a great Smart TV, the manufacturer stressed during its presentation that Redmi TV will present itself as the perfect tool to manage all your smart gadgets.
The operating system chosen is the same as the one present in Xiaomi's Smart TVs –  and will also include the integration of the XiaoAI virtual assistant. Even if it was desired by many fans, it is very unlikely that Redmi TV will ever reach European markets, at least in the near future.
The company further stated that the price of Redmi TV 70 inches is in par with 55 inches TV sold by other renowned brands in the market.
In terms of availability, the Redmi 70-inch TV will be available for sale on September 10, and there will be a  discount for the pre-sale period, which is only $475 down from original price of $530.