Corsair Xeneon Flex 45WQHD240 Gaming Monitor Launched with 240 Hz refresh rate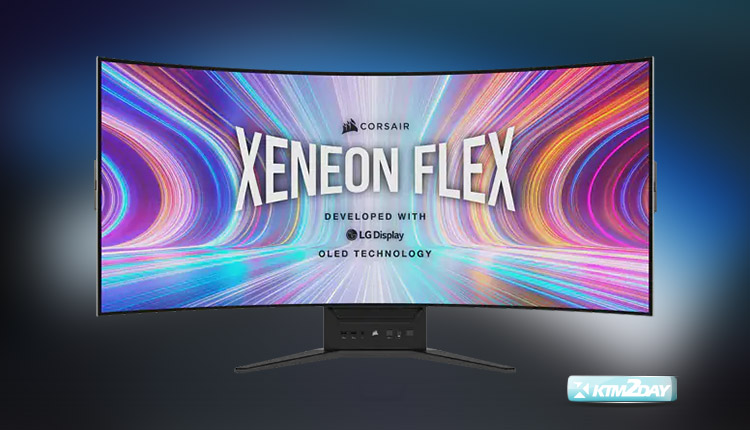 Corsair introduced the Xeneon Flex 45WQHD240 display at Gamescon 2022 back in August.
Pre-orders for the monitor have begun in the United States, the United Kingdom, and other European regions, nearly four months after the product was first introduced.
Those who aren't familiar with it should know that the Corsair Xeneon Flex 45WQHD240 gaming monitor is a flexible display with a refresh rate of 240Hz and a response time of 0.03ms.
Because of the flexible bending architecture, the monitor may serve as a curved or flat display.
As of right now, you can pre-order the first ever 45-inch curved OLED gaming display with a 21:9 aspect ratio.
W-OLED technology, a 21:9 aspect ratio, 45 inches in size, 240 hertz, and the incredible range of adjustment from absolutely flat to 800R set this monitor apart from anything else on the market.
The XENEON FLEX 45 is the result of a joint effort between LG Display and NVIDIA. It's a new kind of display screen.
The 45-inch screen can reach a maximum of 1000 nits in brightness and has a contrast ratio of 1,550,000:1.
It has a resolution of 3440 by 1440 (an aspect ratio of 21:9). It's also feasible to get a refresh rate of up to 240 hertz.
Here, Corsair boasts a staggering 0.03 ms as the GtG reaction time specification. To put it another way, 0.01 milliseconds is the standard for how quickly a pixel can switch between being on and off.
Consequently, you need virtually all motion blur to be eliminated for the best possible gaming presentation, with full support for NVIDIA G-SYNC and AMD FreeSync Premium.
Xeneon FLEX 45WQHD240 Price and Availability
The Xeneon FLEX 45WQHD240 costs $1,999 before taxes in the United States, with free shipping from Corsair.
The price of the screen in the UK is £2,099 ($1,679.99 USD). Corsair's pricing in Europe is currently unknown.
Corsair claims that there will only be a small number of Xeneon FLEX 45WQHD240 monitors made, but the company has not revealed how many it currently has in stock or plans to make.