DJI's newest gimbal Osmo Mobile 4 launched in Nepal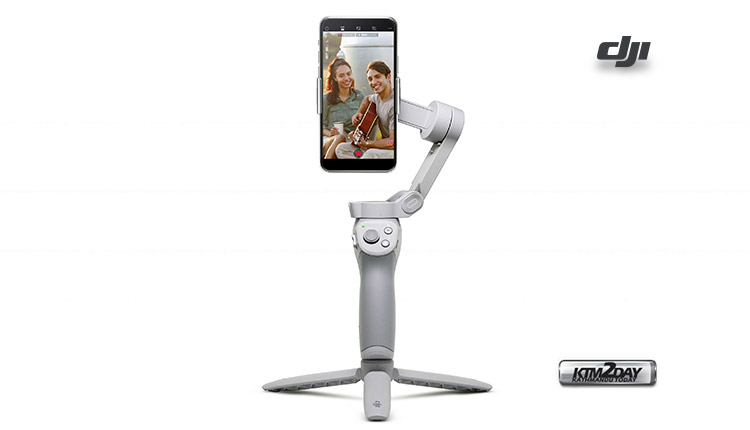 DJI unveiled the DJI Osmo Mobile 4 today. The magnetic gimbal for smarthones had been leaked before and is now official.
The DJI Osmo Mobile 4 has a completely new magnetic fastening system and comes with new software aimed at filmmakers. The company has been marketing the new gimbal with the short name OM 4 and the main reason to upgrade is the attachment system. This makes it easier to attach your smartphone to the gimbal. You get a magnetic clamp and a magnetic ring holder included in the package. You can use the latter as a kickstand if you want to watch video back.
The ring holder has to be pasted on the back of your iPhone and can only be used once.

Visually, the OM4 isn't much different than its predecessor, the Osmo Mobile 3 (OM3). It is a light grey instead of a darker grey, but aside from the joystick, trigger and grip being a bit more rubberized, the body of the gimbal remains largely unchanged.
Auto-Tracking
The DJI OM 4 features ActiveTrack 3.0 for automatically tracking objects and people. So you no longer need a person to control the gimbal, while you give a cooking demonstration, for example, that you want to film. Gestures also allow you to start and stop recording. The movements are already pre-programmed.
During filming, the OM 4 can zoom in automatically to give a professional effect. Other possibilities include timelapse, motionlapse and hyperlapse. The special sports mode is designed for quick action, so you won't miss a moment. Furthermore, you can take panoramas at the touch of a button. In fact, with features like 'Spin shot' and 'Story mode', you don't even have to do much more yourself. The software turns it into a mini-movie with music, video effects and transitions.
With the use of DJI Mimo app, one can control the gimbal's settings and control your iPhone's camera. Three of the new pre-programmed modes include Dynamic Zoom, Spin Mode and a 'Clone Me' panorama mode.
Even if you don't want to use the DJI Mimo app, the OM4 can also control basic camera functions with the stock iOS camera app when connected via Bluetooth.
What phone models does DJI OM 4 support?
iOS:
iPhone 7 to iPhone 11 Pro Max, including the iPhone 8, iPhone X, and iPhone 11 series.
Android:
Xiaomi: Xiaomi Redmi K30, Xiaomi Redmi K30 Pro, Xiaomi Mix 2, Xiaomi Mix 2s, and the  Xiaomi Mi series, including the Xiaomi Mi CC9 Pro.
Samsung: Samsung GalaxyNote9, Samsung GalaxyNote10+, Samsung A50 S, and the Samsung Galaxy series, including the Samsung Galaxy S20 Ultra.
Huawei: Huawei P20 to Huawei P40 Pro, Huawei mate 9 to Huawei Mate 30 Pro, and Huawei Nova 8X to Huawei Nova 30 Pro.
OPPO: OPPO R17 Pro, OPPO Find X, OPPO Find X2 Pro, and the OPPO Reno series, including the OPPO Reno3 Pro.
Vivo: Vivo X30, Vivo X30 Pro, Vivo X50, Vivo X27, and the Vivo NEX 3s.
OnePlus: OnePlus 8 and OnePlus 8 Pro.
Google: Google Pixel and Google Pixel 4XL.
DJI Osmo Mobile 4 Price in Nepal
The DJI Osmo Mobile 4 (OM 4) is for sale online at DJI store and costs $149(NRs 17,700). It comes with two magnetic holders, a tripod handle, a wristband, USB-C power cable and a charging bag.
In Nepal, the Osmo Mobile 4 is available via SmartDoko online store at a price tag of Rs 19,900.