NTC ADSL (Nepal Telecom ADSL Service)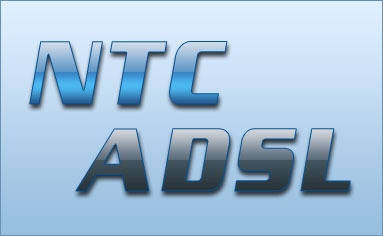 ADSL stands for Asymmetric Digital Subscriber Line, and this name refers to the fact that upload and download speeds are not the same (downloading is always faster).
DSL, a data communications technology that enables faster data transmission over copper telephone lines.
ADSL1 = up to 8Mbps
ADSL2 = up to 12Mbps
ADSL2+ = up to 24Mbps
NTC ADSL
ADSL Registration Begins 17 th Baisakh 2065/29 April 2008
One time Registration fee : Rs. 565 (incl. taxes )
| ADSL Speed(Kbps) | Monthly Charge(Rs.) | 3 Month Package(Rs.) | 6 Month Package(Rs.) |
| --- | --- | --- | --- |
| 192 kbps | 900 | 2,700 | 5,400 |
| 384 kbps | 1500 | 4,200 | 9,000 |
| | Above charges are excluding Taxes 13% | 30 days will be considered as one month for Above ADSL monthly tariff. | Port charge is included in the above rate. No addition of 100 rupees in the phone bill. |
+Taxes : 13% VAT on above.
-Support : NTC doesn't provide any support to its subscribers. Subscibers are themselves responsible for the installation, configuration and maintainence of this product however possible from their end.

Required Hardware equipment : ADSL modem + Splitter(Line Filter)
Update: 26th Dec 2009
Nepal Telecom will be introducing Volume based plans in a months time.With volume based plans subscribers only have to pay for the amount of data downloaded & uploaded. Currently, Nepal Telecom has only been providing  unlimited usage plans to its basic subscribers under speeds 128 kbps & 256 kbps.
NT is also readying to launch internet plans as fast as 2 Mbps for basic subscribers under volume based plans. This type of plans are based on amount of megabyte usage per month. Subscribers with low usage of data per month will most likely benefit from this scheme.


256/128 kbps ————–  25-32 kilo bytes per second
128/64 kbps ————-      10-16 kilo bytes per second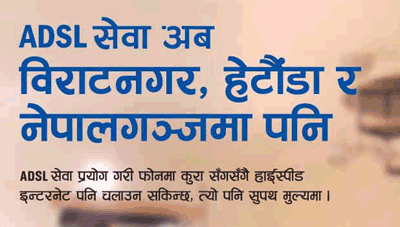 Nepal Telecom has expanded its ADSL service outside Kathmandu Valley.
ADSL  service is now available in 20 districts and will be extended to 40 districts throughout the country in the near future.
Currently, NT has 35,000 ADSL subscribers .
Outside Kathmandu Valley this service is now available in;
Bharatpur(Chitwan)
1. Bharatpur
2. Sangamchowk
3. Tandi
4. Gaidakot
5. Parsa
6. Bhandara
7. Rampur
8. Sauraha
Birgunj
Hetauda
Pokhara Region
1. Sisuwa
2. Pokhara
3. Pardi
Bhairahawa Region
1. Bhairahawa
2. Butwal
3. Manglapur
4. Taulihawa
5. Palpa
6. Jogikuti
Biratnagar Region
1. Biratnagar
2. Tinpaini
3. Tanki
4. Itahari
5. Dharan
6. Itahari
7. Rani
Nepalgunj Region
1. Nepalgunj
2. Karkando
3. Kohalpur 4. Dang
5. Tulsipur
6. Ghorahi

Similar Posts :
ADSL modems compatible with NTC