Nepal gets one more year to address its AML deficiencies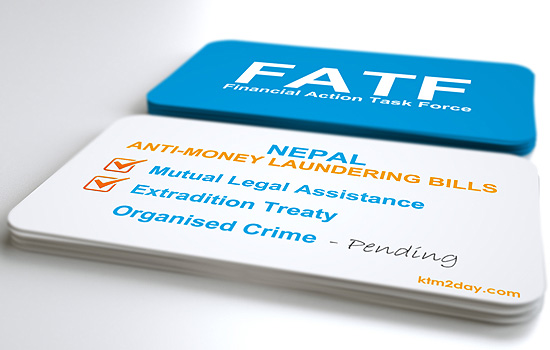 With the endorsement of two anti-money laundering (AML) bills, Nepal has received one more year to address deficiencies in its anti-money laundering and combating the financing of terrorism (AML/CFT) regime.
The Financial Action Task Force's (FATF) plenary that ended on Friday in Rome decided to let Nepal remain in the 'grey list' until July 2013.
President Ram Baran Yadav had endorsed two ordinances on the Mutual Legal Assistance and Extradition Treaty on June 18, which helped Nepal avoid being blacklisted by the FAFT, a global anti-money laundering body. The FATF had warned Nepal of possible blacklisting if the country failed to endorse three bills on anti-money laundering — Mutual Legal Assistance, Extradition Treaty and Organised Crime. However, the bill on Organised Crime was not endorsed due to differences among the political parties.
"Nepal has maintained its status quo," said Maha Prasad Adhikari, deputy governor of Nepal Rastra Bank (NRB). "Now, we have one more year in which we have to complete unfinished tasks."
Among the major jobs that Nepal needs to complete in the next one year are the endorsement of the bill on Organised Crime, amendments to the Act on Anti-money Laundering and automation of the Financial Information Unit (FIU) at NRB. "These were the same commitments that Nepal had made during FATF's February plenary in Paris," said Adhikari. "We were also asked to endorse the three bills and issue new directives on AML."
In the first week of May, The NRB had issued new directives on anti-money laundering whereby FIU has directed 12 government agencies and 10 types of NGOs to freeze assets of and avoid transactions with organisations and individuals who have been listed as terrorists by the United Nations and the government.
Nepal has to complete the automation of FIU, which keeps track of suspicious transactions and works as focal points for Nepal on exchange of information about money laundering, by December 2012. "We have been told to upgrade IT system at FIU by December," said FIU Chief Dharma Raj Sapkota.
The FATF has also asked Nepal to amend the Money Laundering Prevention Act. "We have been asked to adopt more stringent provision in the Act," he said.
If Nepal had failed to endorse the two bills ahead of the plenary, FATF would have blacklisted the country. Blacklisting of Nepal could have resulted in non-acceptance of letters of credit by foreign banks, affecting Nepal's international trade. Nepali nationals may have to undergo stricter surveillance at intentional airports.
NRB sources say FATF has expressed reservations about frequent transfers of key officials at the Department of Money Laundering Investigation (DMLI), the main government agency for controlling anti-money laundering activities.
The department was set up in June 2011 and was formally inaugurated in August 2011. However, in less than a year of its establishment, its director general (DG) has been changed thrice.
When the department was established, Khum Raj Punjali was appointed its DG. Punjali was replaced by Mukti Narayan Poudel within five months. Even Poudel did not last for more than five months and Rajendra Nepal was brought in his place.
The Finance Ministry is now planning restructuring DMLI. "The O&M survey for the restructuring is in the last phase," said a ministry source. After restructuring, there will be around 100 staffers, including a Superintendent of Police, at the department.