AMD announces Radeon RX 6600 XT : Faster than the GeForce RTX 3060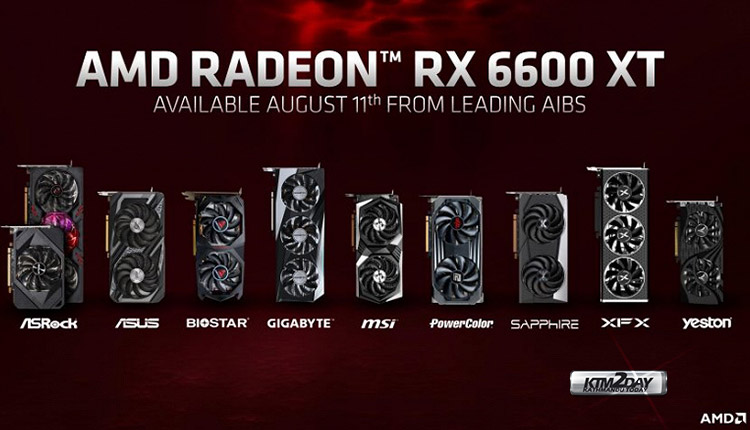 Today at the ChinaJoy event, AMD officially unveiled the Radeon RX 6600 XT graphics card, the most affordable model in the current lineup.
It is designed for games with a 1080p monitor resolution, and in this niche it surpasses its direct competitor – the GeForce RTX 3060. On average, the performance of the Radeon RX 6600 XT is 15% higher. And if the new product is compared with its predecessor, RX 5600 XT, then it is 1.4 to 1.7 times faster.
The Radeon RX 6600 XT is based on the Navi 23 XT GPU with 2048 Stream processors. Frequency in gaming mode – 2359 MHz, in Boost mode – 2589 MHz. The video card received 32 MB of fast Infinity Cache buffer memory and 8 GB of GDDR6 memory with a 128-bit bus. Power consumption is 160 W, and one eight-pin connector is provided for additional power supply.
AMD Radeon RX 6600 XT will be available only as partner solutions with various cooling systems from one to three fans (there are no reference versions).
Sales start on August 11, the official price of new items is $ 380. This is exactly $ 100 more than the Radeon RX 5600 XT at the start of sales. For comparison, the official cost of the GeForce RTX 3060 is $ 330.
Here's how RX 6600 XT stacks up compared to the best models from each Radeon RX 6000 sub-series.
| VideoCardz | RX 6900 XT LC | RX 6800 XT | RX 6700 XT | RX 6600 XT |
| --- | --- | --- | --- | --- |
| GPU | Navi 21 XTXH | Navi 21 XT | Navi 22 XT | Navi 23 XT |
| Cores | | | | |
| Infinity Cache | | | | |
| Game Clock | | | | |
| Boost Clock | | | | |
| Memory Clock | | | | |
| Memory | | | | |
| Memory Bus | | | | |
| Bandwidth | | | | |
| TBP | | | | |
| MSRP | OEM | | | |
| Launch Date | June 2021 | November 2020 | March 2021 | August 2021 |