NRNA wants dual citizenship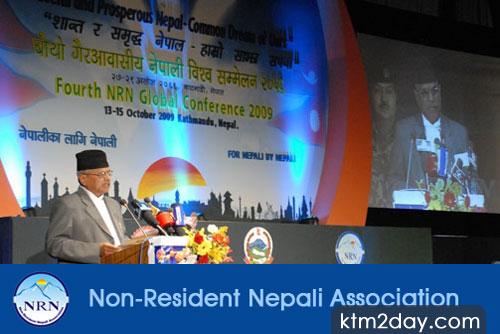 Nepalis living abroad are calling on the Nepali government to grant them dual citizenship so that they can invest more in their native country and increase their presence in its economic and social life.
From 13 to 15 October, the Non-Resident Nepalese Association (NRNA) held a conference in Kathmandu that brought together delegates representing two million Nepalis living in 55 countries . They represent the top of the Nepali Diaspora of seven million out of a population of almost 30 millions.
One Nepali migrant in three is no longer a Nepali citizen but maintains close ties to the homeland through a constant flow of family remittances, investments in the local economy and financial support for development projects.
In the last six years, NRNA members have invested around US$ 300 million and given away about US$ 43 million to charity.
In an 18-page proposal drafted at the end of the conference in Kathmandu, the association is calling on the government of Nepal to recognise their contribution to the country, and grant its members dual citizenship.
For the NRNA, having non-resident status makes it harder on members to invest more in the mother country. Education, infrastructures and the private sector would be the areas in which they would focus their attention.
Prime Minister Madhav Kumar addressed the conference, the fourth of its kind since NRNA was founded in 2002. He thanked the delegates for the contribution migrants make to the economy of Nepal, and assured them that the government would look into their request for dual citizenship with "seriousness" and "at the earliest".
Data show that remittances by nationals living abroad contribute to 40 per cent of the country's economy.
Prime Minister Kumar told NRNA members that they should not only "bring in capital" but also act as ambassadors of Nepal in the world, exploring overseas markets for Nepali products.
Non-resident Nepalis "can help us realise of our cherished dream of a prosperous new Nepal," he said.