Nepal Telecom focuses on expanding internet, voice services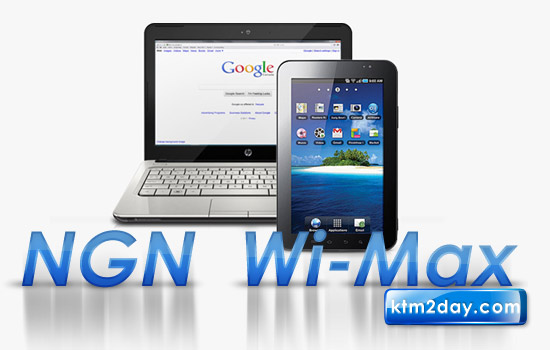 Nepal Telecom (NT) has focused its annual programme on expanding internet and voice services in the current fiscal year. The state-owned telecom giant plans to implement services with the aim of attracting more customers through GSM 3G, Sky Pro, WiMax, Next Generation Network (NGN) and satellite technology-based data services.
With demand for data service swelling rapidly in urban and rural areas, NT stated that expansion of its internet service would make it more competitive and boost revenue. It has signed a contract with Huawei Technologies to install 4.8 million mobile lines, 45 percent of which will have 3G service capability.
"We will give continuity to data service enabled NGN this year, and distribute broadband service in 1,800 village development committees of 35 districts under the first phase of our WiMax service project," said Surendra Prasad Thike, spokesperson of NT. He added that under the same project, 50,000 lines would be made available for data service in Kathmandu and Butwal.
NT is planning to launch the WiMax data service by mid-September this year. Similarly, the company is making the final preparations to distribute internet enabled high speed Sky Pro service based on IP CDMA technology. NT officials said that the pro service would be the cheapest data service compared to other internet services available in the market.
Anoop Ranjan Bhattarai, deputy managing director of NT, said that they would start providing the Sky Pro service within a couple of weeks. He added that they had signed contracts with the dealers of Samsung and Alcatel handsets to provide data and voice services with a single Removable User Identity Module (RUIM) card to customers.
NT said that the speed of the pro would be up to 3.1 Mbps. Since the sky pro service requires a smartphone supporting CDMA technology, NT had partnered with Samsung and Alcatel to provide the service as a package. Customers who want to use the pro in their laptops or desktops will have to purchase a separate USB drive.
NT officials said they were working to distribute 200,000 lines of high speed internet service along with mobile service based on satellite technology in remote areas of the mountains and hills. They added that notices inviting tenders had been issued.
The number of NT's data service users including GPRS users amounted to 2.03 million as of mid-June this year. NT officials attributed the jump in the number of data users to the increased trend of using data service on mobile phones and growing popularity of its ADSL internet service.