Nepal Airlines' new airbus A320-200 arrives at TIA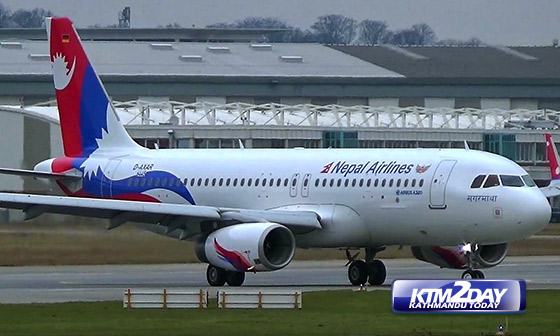 Nepal Airlines Corporation (NAC)'s new plane landed at Tribhuvan International Airport (TIA) on Sunday afternoon.
The first of two Airbus A320-200, ordered by NAC to French Airbus Company landed at TIA amid a special ceremony at around 4:00 pm. The NAC had earlier signed an agreement with French Airbus Company for purchase of two airplanes last year.
According to NCA, the second airplane will arrive after two months. With the arrival of new airplane, the NAC will be equipped with additional suppleness to make flights to new destinations. NAC has been making flights to Doha, Hong Kong, Bangkok and Kuala Lumpur currently.
The flight to Dubai has been on hold while flight to Indian capital city of New Delhi has been completely halted. The NAC plans to increase flights to those destinations after the arrival of the two airbuses.