Gautam Buddha International Airport at Bhairahawa inaugurated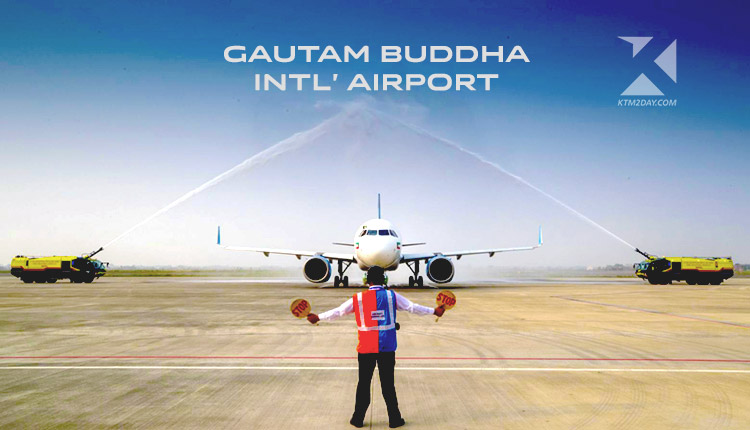 Nepal's second international airport Gautam Buddha International Airport has been inaugurated by Prime Minister Sher Bahadur Deuba. The airport was formally inaugurated after the international aircraft of Jazeera Airways of Kuwait landed at the airport for the first time.
Jazeera had already obtained permission for regular international flights. Jazeera Airways will operate regular Kuwait-Bhairahawa-Kuwait flights from Monday on the occasion of Buddha Jayanti.
Jazeera 's aircraft, which took off from Kuwait at 2.30 am Nepali time, landed at Gautam Buddha Airport at 7.30 am on Monday.
Kuwait Airways currently flies to Gautam Buddha Airport three days a week. Minister for Tourism Prem Bahadur Ale, Prime Minister Sher Bahadur Deuba and others had reached Lumbini yesterday to inaugurate the airport.
A water cannon salute and applause greeted the landing plane.
The project took four years longer than expected to complete. The project's initial cost was Rs 6.22 billion, but it has now risen to about Rs 8 billion. Pradeep Adhikari, Director General of the Civil Aviation Authority of Nepal (CAAN), stated the airport cost roughly Rs 7.5 billion to build.
The airport is 19 kilometers from Lumbini, the birthplace of Lord Buddha and a UNESCO World Heritage Site.
The new airport infrastructure includes a 15,169-square-meter terminal building and a new 3,000-meter runway that can accommodate wide-body planes. In addition, for the first time in Nepal, a sophisticated Instrument Landing System will be deployed in GBIA, allowing planes to land even in poor visibility.
"The opening of the airport is a source of national pride. The GBIA will serve as an alternative to Kathmandu's Tribhuvan International Airport, and aircraft would no longer be forced to divert to neighboring countries in the event of adverse weather or other technical concerns," said Prem Bahadur Ale, Minister for Culture, Tourism, and Civil Aviation.
The entire construction cost of the airport is 76.1 million dollars. The ADB has committed approximately USD 37 million in loans and grants, while the OPEC Fund for International Development has contributed approximately USD 11 million in loan funding. Nepal's government provided the remaining funds.