Visa card holders to get upto 10% cashback offer on purchases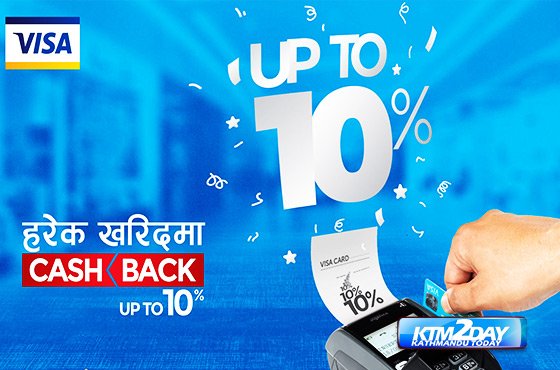 As part of its 'Card Loyalty Program,' Nepal Investment Bank Limited (NIBL) and its Visa associate member banks launched a campaign to offer its Visa cardholders (domestic) access to exclusive cash back rewards when using their Visa debit or credit cards for all purchases.
Issuing a statement, NIBL said that this initiative comes in the context of these banks' effort to boost card usage for payments of goods and services in Nepal.
"This program has been specifically designed to move the Nepali economy into a less cash using society and encourage customers to use their Visa debit/credit cards and redeem cash back in the easiest way into their accounts," the statement said.
Cardholders who purchase goods or services by using Visa domestic debit/credit cards issued by these banks will receive certain amount as cash back reward for transaction above Rs 500.
With certain terms and conditions applied, these banks will provide cash back into their cardholders' accounts on the following day of purchases made by their Visa debit and credit cards.
"Visa is delighted to partner up with NIBL's card network member banks to offer their cardholders' cash back loyalty on their purchases across hotels, restaurants, retails, hospitals and a host of other services," the statement further said.
CardholdersAnchor of Century Bank Ltd, Global IME Bank, Kumari Bank Ltd, Mahalaxmi Development Bank, Mega Bank, Muktinath Bikash Bank, NCC Bank, Nepal Investment Bank Limited, Rastriya Banijya Bank, Sanima Bank and Tourism Development Bank will be benefited under this program.
The cash back amount is as mentioned below: