Harman Kardon Aura Studio 2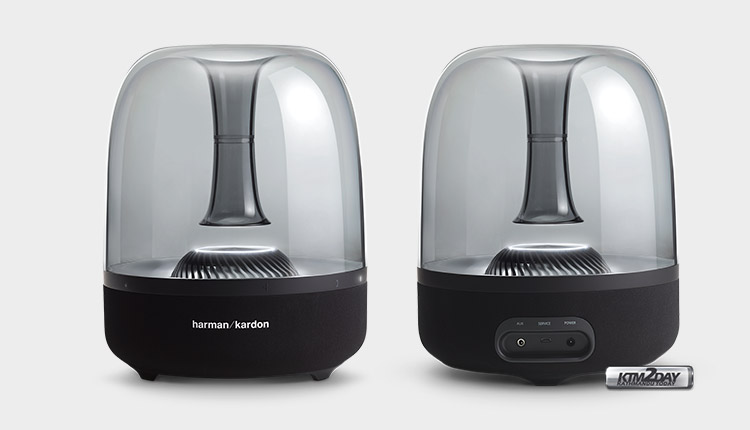 Evostore has launched Harman Kardon Aura Studio 2 premium speakers in Nepali market. The Harman Kardon Aura Studio 2 is a high powered glass box with subwoofer that produces 360 degree sound.
The Aura Studio 2 stands out for the quirky design, which puts tweeters and woofer under a transparent dome and above a set of LED lights. This unusual setup promises for equal propagation of sound in the room environment by 360 degrees – the subwoofer can be placed anywhere and the surround sound can be felt equally.
The box varies power between 15 and 30 W, and reproduces sound in almost the entire range audible by the human being: the bass goes up to 50 Hz, and the treble up to 20,000 Hz. Nevertheless, the price of NPR 28,500  is high against other boxes with the same accentuation of bass in the market. The advantage of Aura 2 is in DSP stereo sound propagation technology, which should help with audio quality. The equipment also has a wireless connection to combine power with more than one box of the same model.
Features
Featuring iconic design, ambient lighting and ease of use, the Aura Studio 2 delivers the impeccable, high quality Bluetooth audio streaming you've come to expect from a Harman Kardon product. Equipped with an animated ambient white light that glows up from the center turbine and a sleek, tinted dome, your music has never looked better. Add in no less than six premium 1.5" high/mid-range transducers and a powerful 4.5" subwoofer that delivers 360-degree omnidirectional audio, and you've got the centerpiece of sound in any home. Sound that can be easily amplified thanks to the Wireless Dual Sound feature that lets you conveniently link two Aura Studio 2 speakers or integrate with a host of other Harman Kardon products.
Price : NRs. 28,500