Huawei launches first Vision TV : 4K, QLED and retractable camera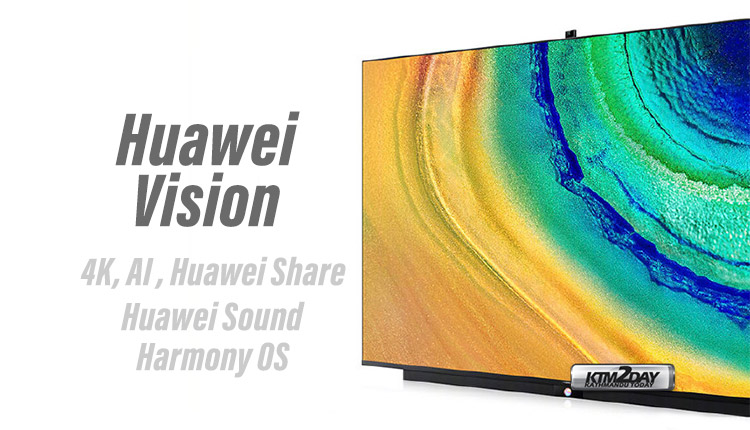 Huawei launched its latest flagship Mate 30 Series along with Watch GT 2 and FreeBuds 3 TWS and at the end it unveiled its latest smart television Huawei Vision TV that runs on company's own Hongmeng OS.
There are three models – 55, 65 and 75 inches. All come with a matrix on quantum dots with 4K resolution, a screen refresh rate of up to 120 Hz is supported.
Huawei TV runs on the HarmonyOS operating system, which in China is called HongmengOS. The system provides multitasking and close communication with other devices – you can start a video call on your smartphone and continue talking using the TV. To achieve this the Huawei Vision TV even has a retractable camera built on top of the screen.
Using the remote control, one can start voice control. You can also transfer images from the smartphone to the screen, if you attach it to the remote control -as it has NFC feature.
The remote controller for the Vision TV comes with a touchpad for navigation and it uses a USB-C port to charge.
The frames around the screen are as narrow as possible, at the top end there is a retractable AI camera with facial recognition and safety features for children. One of the main features of Huawei Vision is its professional 5.1 surround sound. This is achieved by using eight speakers, one reflector and one subwoofer .
Huawei Vision will be closely integrated into the brand ecosystem. It is stated to support multiscreen use with smartphone and laptop in one click, fast transfer of content in 60fps and control with the phone.
Huawei will initially launch the Vision TV in 65-inches and 75-inches panel size, and later will launch the TV in a smaller 55-inch screen size and an even bigger 85-inch screen size.
From what we know, the Huawei Vision TV could be competing in the premium TV segment with likes of premium models from Samsung, Sony, LG and the upcoming OnePlus TV Q1 Pro.
Huawei did not reveal the pricing and launch date of its smart television .