AskMe Virtual Job Fair 2021 kicks off, employment opportunities in more than 50 companies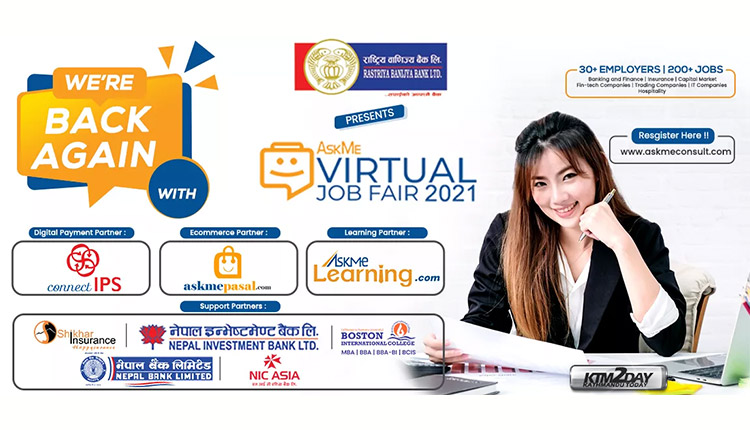 The second edition of AskMe Virtual Job Fair kicked off on Wednesday. AskMe Consult has launched Ask Me Virtual Job Fair 2021 on the online platform in collaboration with Rastriya Banijya Bank.
Archana Kunwar Chhetri, managing director of AskMe Management, said the virtual job fair, which was launched in the wake of the Corona epidemic, would send a positive message by expanding the job market.
"When we first introduced this concept in 2020, it was new to Nepal. We conducted the first edition of the Virtual Job Fair with complete success because more than 40 companies participated in the first year itself, 'said Kunwar.
Connect IPS of Nepal Clearing House has collaborated as a payment partner of Job Fair. She further added that Nabil Bank, Nepal Bank, Shikhar Insurance, Nepal Investment Bank, NIC Asia Bank, Jawalakhel Group, SB Web, NMB Bank, Nepal Bangladesh Bank, NCC Bank, Laxmi Bank, Agni Group and others will participate in the fair to provide employment as feature recruiters.
Similarly, Sangrila Development Bank, Reliable Life Insurance, Sanima Life Insurance, Prime Life Insurance, IME Pay, NECO Insurance, Sanima General Insurance, Sanima Life Insurance, AskME Shop and other companies are expected to participate in the fair.
Companies wishing to participate in the fair have to log in to AskmeConsult.com/employer-zone to set up an online stall, the company said.
It is also possible to create an online stall at the fair from this portal. "People from all over the country can simultaneously visit this platform and apply for employment as per their need from their mobile or computer," the statement said.
Some companies have also made arrangements to hire employees through online interviews. The company has stated that those who are abroad on the platform but are looking for suitable employment to return to Nepal can also choose the best option. The fair will run until next Friday.