Honda Nepal launches attractive scheme on New Year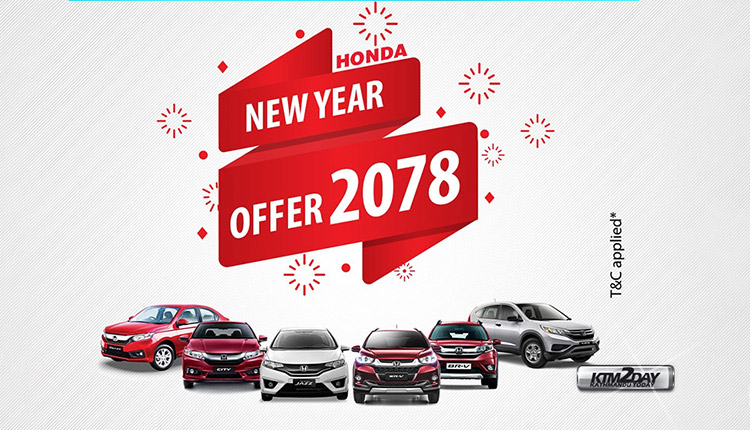 Honda Nepal brought an attractive scheme for customers who purchase new Honda vehicles. Syakar Trading, the official Honda dealer for Nepal has brought this scheme on the occasion of New Year 2078 BS.
The company has unveiled an interest-free scheme for its 2015 model Civic Vista and 2018 model Honda City VMT. In this scheme, customers can make a down payment of 20 percent, 30 percent, 40 percent, 50 percent and above as per their choice.
Honda has brought such an offer to clear its old stock of vehicles. In this offer, the customer who buys Honda Civic 2015 model can just pay 20 percent down payment and the remaining amount will be charged 3 percent interest for 5 years and 4.50 percent interest for 7 years.
If the customer makes a down payment of 30 percent, then they will get 2 percent interest on a 5-year loan and 3.50 percent interest on a 7-year loan.
Customers who make 40 percent down payment will not not be required to pay any interest in 5 year installments while those who take 7 years loan will have to pay 2.50 percent interest. Those who make a down payment of 50 percent and above do not have to pay interest when taking a loan for 7 years. The company has priced the Civic at Rs 6.8 million.
The company has also set different interest rates for the purchase of Honda City VMT 2018 model for 5-year and 7-year loans. The interest rate has been fixed at 4 percent for 5 years and 6 percent for 7 years for 20 percent down payment. For 30 percent down payment, 3 percent and 5.50 percent, 40 percent down payment, 2 and 5 percent, 50 percent down payment, 1 and 4 percent interest will be charged.
If the buyer pays 60 percent down payment and takes it in 5 year installments, he does not have to pay interest and if he buys in 7 year installments, he has to pay 2.5 percent interest. The Honda City VMT is priced at Rs 5.90 million.
The company is offering very low and interest free loan facility on Honda cars with 70 percent down payment scheme on 2018 and 2019 models.