With hike in aviation fuel prices Domestic Airlines increase airfare(Revised Airfare List)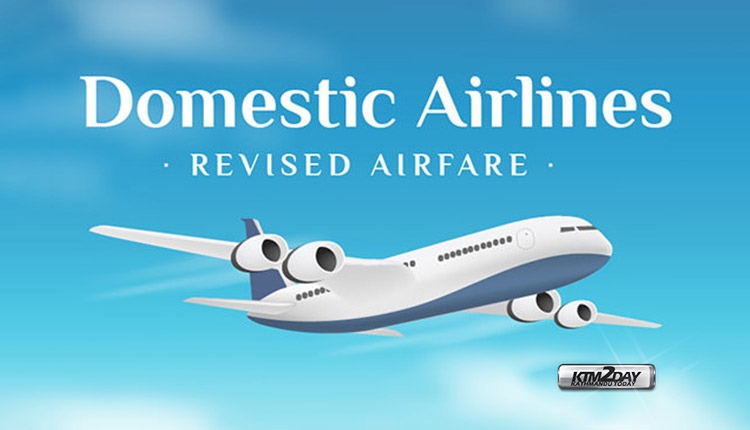 Airline companies have increased airfares with the rise in cost of aviation fuel. Along with the government raising the price of aviation fuel, airliners have also increased fares for domestic flights.
According to the revised fuel 'surcharge', airline operators have increased the airfare with maximum on the Kathmandu-Dhangadhi route by Rs 220. However, the cost of fuel for mountain flights from Kathmandu has been increased by Rs 170.
Similarly, the lowest hike is in the airfare of Doti – Safebagar route. The air fare on the route has been increased by only Rs.20.
Aviation turbine fuel prices have risen sharply in recent days, forcing Airline Operators Association of Nepal(AOAN) to raise air travel fares, according to the organization. Price increases in aviation fuel (domestic) have been announced by the country's sole distributor of petroleum, the Nepal Oil Corporation (NOC).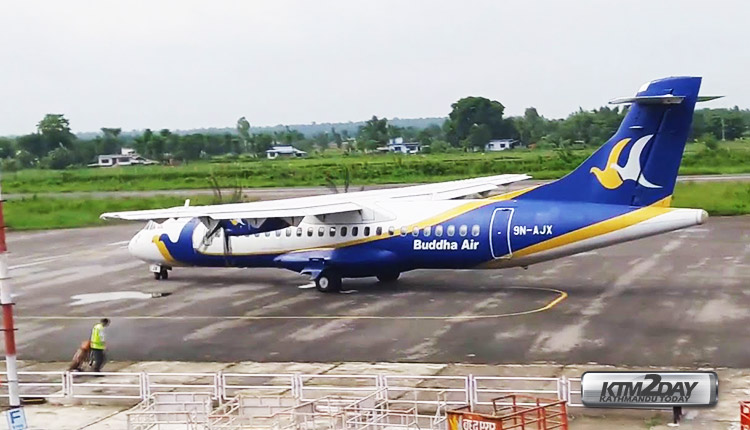 Domestic Airfares according to Routes
SECTOR
FUEL SURCHARGE (NRs.)
EXISTING(Rs.)
NEW(Rs.)
INCREASE BY(Rs.)
Kathmandu-Mountain
3,295
3,465
170
Kathmandu-Bhadrapur
2,880
3,030
150
Kathmandu-Biratnagar
2,305
2,425
120
Kathmandu-Janakpur
1,235
1,300
65
Kathmandu-Bharatpur
1,025
1,080
55
Kathmandu-Pokhara
1,520
1,600
80
Kathmandu-Bhairahawa
1,975
2,080
105
Kathmandu-Nepalgunj
3,130
3,290
160
Kathmandu-Dhangadhi
4,240
4,460
220
Kathmandu-Tumlingtar
1,770
1,860
90
Kathmandu-Simara
865
910
45
Kathmandu-Surkhet
3,315
3,490
175
Kathmandu-Rajbiraj
1,960
2,065
105
Pokhara-Bharatpur
1,065
1,120
55
Pokhara-Bhairahawa
1,235
1,300
65
Pokhara-Simara
2,145
2,260
115
Pokhara-Nepalgunj
2,275
2,395
120
Pokhara-Biratnagar
3,415
3,595
180
Pokhara-Mountain
3,015
3,170
155
Biratnagar-Mountain Flight
3,060
3,220
160
Biratnagar-Tumlingtar
1,025
1,080
55
Bharatpur-Bhairahawa
1,280
1,345
65
Biratnagar-Bhojpur
800
840
40
Biratnagar-Lamidanda
980
1,035
55
Biratnagar-Phaplu
1,275
1,340
65
Biratnagar-Pokhara
3,170
3,335
165
Biratnagar-Rajbiraj
655
690
35
Biratnagar-Ramechhap
1,640
1,725
85
Biratnagar-Rumjatar
1,090
1,150
60
Biratnagar-Taplejung
1,055
1,110
55
Biratnagar-Thamkharka
875
920
45
Biratnagar-Simara
1,310
1,380
70
Dang-Chaurjhari
655
690
35
Dang-Rukum
690
725
35
Dhangadhi-Baitadi
800
840
40
Dhangadhi-Bajhang
1,055
1,110
55
Dhangadhi-Bajura
1,310
1,380
70
Dhangadhi-Darchula
980
1,035
55
Dhangadhi-Doti
690
725
35
Dhangadhi-Safebagar
800
840
40
Dhangadhi-Mahendranagar
580
610
30
Dolpo-RukumSalle
690
725
35
Doti-Safebagar
400
420
20
kathmand-Chaorjhari
2,805
2,955
150
Kathmandu-Phaplu
1,165
1,225
60
Kathmandu-Baglung
2,005
2,110
105
Kathmandu-Bhojpur
1,420
1,495
75
Kathmandu-Jomsom
1,895
1,995
100
Kathmandu-Jumla
3,280
3,450
170
Kathmandu-Lamidanda
1,090
1,150
60
Kathmandu-Lukla
1,310
1,380
70
Kathmandu-Manang
1,820
1,915
95
Kathmandu-Meghauly
1,055
1,110
55
Kathmandu-Ramechhap
800
840
40
Kathmandu-Rumjatar
980
1,035
55
Kathmandu-Surkhet
3,060
3,220
160
Kathmandu-Taplejung
1,965
2,070
105
Kathmandu-Rajbiraj
1,675
1,765
90
Kathmandu-Dang
2,625
2,760
135
Kathmandu-Khanidanda
1,275
1,340
65
Kathmandu-Kangeldanda
1,275
1,340
65
Kathmandu-Rukum
2,805
2,955
150
Kathmandu-Thamkharka
1,640
1,725
85
Lamindanda-Rajbiraj
835
880
45
Lukla-Rumjatar
1,090
1,150
60
Lukla-Phaplu
580
610
30
Mahendranagar-Darchula
725
765
40
Mahendranagar-Doti
835
880
45
Mahendranagar-Baitadi
875
920
45
Mahendranagar-Bajhang
1,275
1,340
65
Mahendranagar-Safebagar
1,055
1,110
55
Nepalgunj-Baitadi
1,640
1,725
85
Nepalgunj-Bajhang
1,530
1,610
80
Nepalgunj-Bajura
1,420
1,495
75
Nepalgunj-Chaurjhari
800
840
40
Nepalgunj-Dang
690
725
35
Nepalgunj-Darchula
1,785
1,880
95
Nepalgunj-Dolpo
1,385
1,455
70
Nepalgunj-Doti
1,275
1,340
65
Nepalgunj-Jumla
1,420
1,495
75
Nepalgunj-RukumSalle
945
995
50
Nepalgunj-Sanfebagar
1,240
1,300
60
Nepalgunj-Simikot
1,895
1,995
100
Nepalgunj-Surkhet
620
650
30
Nepalgunj-Talcha (Rara)
1,530
1,610
80
Pokhara-Bhairahawa
945
995
50
Pokhara-Bhartpur
765
805
40
Pokhara-Dolpo
1,165
1,225
60
Pokhara-Jumla
1,200
1,265
65
Pokhara-Manang
800
840
40
Pokhara-Surkhet
1,240
1,300
60
Pokhrara-Jomsom
765
805
40
Rajbiraj-Rumjatar
1,090
1,150
60
Surketh-Bajhang
1,130
1,185
55
Surkhet-Bajura
1,130
1,185
55
Surkhet-Jumla
1,020
1,070
50
Surkhet-Dolpo
1,275
1,340
65
Surkhet-Rukum
875
920
45
Surkhet-Simikot
1,455
1,535
80
Surkhet-Talcha
1,130
1,185
55
Surkhet-Chaurjhari
690
725
35
Ramechhap-Lukla
725
765
40