Qualcomm Flight RB5 5G Platform Drone unveiled with 5G and Wi-fi 6E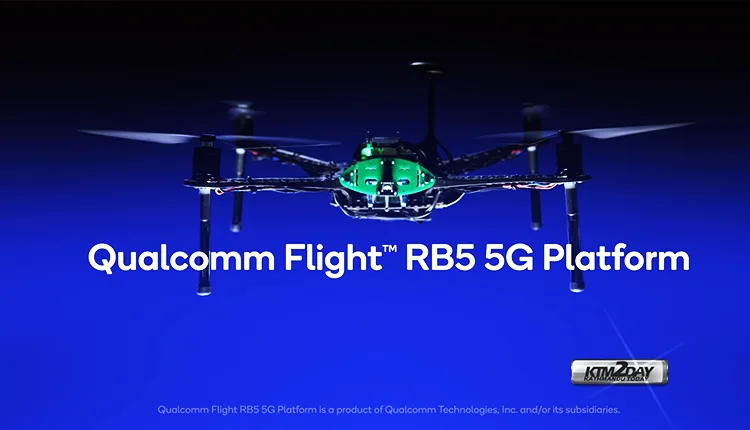 Four months ago, Qualcomm Flight Platform enabled the first-ever powered, controlled flight on another planet with NASA's Ingenuity helicopter on Mars, highlighting how technology can even help transform industries like space.
Much like NASA's Ingenuity, advancements in hardware, camera technology, and flight software are unlocking new possibilities for commercial and industrial flight technology back on Earth.
Interest in drones and unmanned aerial vehicles (UAVs) is accelerating rapidly, with continued adoption and market growth expected throughout the next decade.
A key development that's been missing, however, is the pairing of this growing drone technology with the advancements made in AI and autonomy along with 5G and long-range Wi-Fi connectivity.
To meet this standard, the company unveiled the Qualcomm Flight RB5 5G Platform. Designed for small, unmanned aircraft systems, the Qualcomm Flight RB5 Platform combines heterogeneous, low-power computing and camera systems with AI, and long-range connectivity such as 5G, and Wi-Fi 6 to bring together the unparalleled power of 15 TOPS with advanced imaging capabilities and drone-to-drone communication.
The computational power for seven-camera concurrency enables drones to capture several shots simultaneously in a variety of high-quality formats. Additionally, the 5th Generation Qualcomm AI Engine handles complex tasks which include computer vision, perception, and autonomy for a transformative imaging experience.
Advanced AI equips 4K and 8K drone cameras with Electronic Image Stabilization (EIS), horizon leveling, and digital zoom for film-like image capturing capabilities, while computer vision brings multi-object detection and tracking, digital gimbal techniques, and depth cues from stereo vision for easy control of any shot. Autonomy features like path planning and obstacle avoidance work together for smooth flying and BVLOS operation.
Long-range connectivity is also a revolutionary component of Qualcomm Flight. 5G and Wi-Fi 6 features enable low-latency connections with a UAV controller for precise movements and immediate first person view (FPV) response time.
Fast connectivity also allows for HDMI interfacing to an external display to see drone footage in real time. Additionally, security is a vital role when it comes to connectivity and Qualcomm Flight. Working in tandem with onboard AI processing, the user is in total control thanks to comprehensive security links and powerful encryption technology virtually anywhere they are as a key enabler for cybersecurity, data protection, and drone safety requirements.
The Flight RB5 5G chipset is based on Snapdragon 865, has QRB5165 and Kryo 585 processors, plus an Adreno 650 GPU. Drone manufacturers will have access to a software development kit for neural processing, computer vision and multimedia apps.
In addition to the above, Qualcomm's chipset for drones has 5g connectivity (with mmWave ) and 6E Wi-Fi (supports 6Ghz band). According to the North American developer of chipsets for cell phones, these connection technologies could help in the communication between one drone and another, making it possible to control a large group of drones. As a result, there will be several applications in which the technology could be useful, for example, in the delivery and transport of goods, in aerial light monitoring and in military warfare.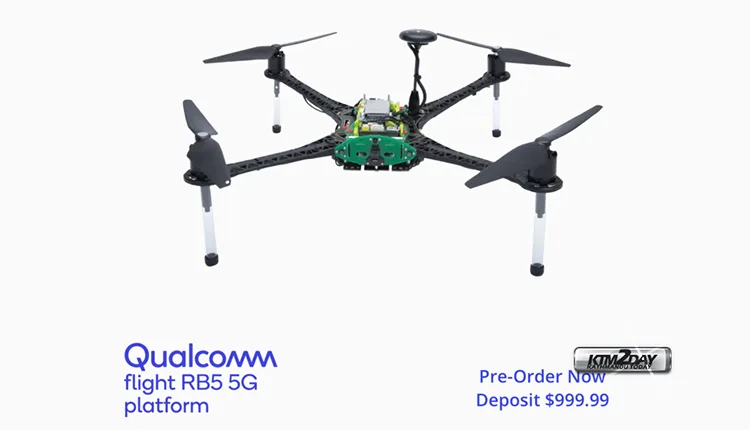 Release and availability
The reference drone developed by Qualcomm is now available for pre-order and is expected to ship by the end of the third quarter of 2021. The version with 5G modem will cost US$4449.99 while the one without 5G will cost US$3999.99. For advance booking, you will need to make a deposit payment at the time of order in the amount of US$999.99.
Full Price $3999.99 (without 5G modem) – $4499.99 (with 5G modem)