Samsung Galaxy Z Fold 2 Announced With Bigger Displays, Improved Hinge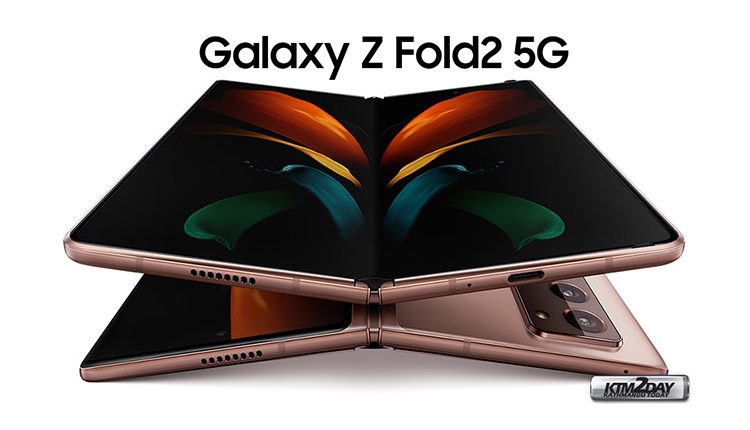 Samsung continues to pioneer an entirely new category of mobile devices by introducing the next generation of foldables— Galaxy Z Fold2.
After releasing two foldable devices and listening to user feedback on the most requested upgrades and new features, Samsung unveils the Galaxy Z Fold2 with meaningful innovations that offer users enhanced refinements and unique foldable user experiences.
Galaxy Z Fold2 combines the portability and flexibility of a smartphone with the power and screen size of a tablet for ultimate productivity. Whether folded or unfolded, you can enjoy a luxury mobile experience with Galaxy Z Fold2's premium design.
The Galaxy Z Fold2 comes packed with two edge-to-edge, nearly bezel-less Infinity-O Displays. The Cover Screen is 6.2-inches and the massive Main Screen is 7.6-inches, making them both larger than the Galaxy Fold.
With its sleek design and refined engineering, Galaxy Z Fold2 comes in two equally stunning colors: Mystic Black and Mystic Bronze.
For users who seek a unique premium design, Samsung is again partnering with iconic New York fashion house Thom Browne to deliver a limited Galaxy Z Fold2 Thom Browne Edition. With Galaxy Z Fold2, Samsung will continue to inspire all new possibilities for the entire foldable category.
The main big difference that we can see in the Z Fold 2 is its design. The device now features much more modern "2020-ish" design, the smartphone arrives with a much larger external screen than the previous generation and an improved design that is clearly inspired by the Note 20 series.
Leaving a barely usable panel of just 4.5 inches, Samsung now offers a large 6.23 inch screen with Full HD resolution on the outside, improving the foldable internal panel with 7.7 inch instead of 7.3 inch, with a variable refresh rate ranging from 1 Hz to 120 Hz.
Despite the changes, Samsung maintains the essence of the Galaxy Fold book , butterfly , you name it format on the Z Fold 2. The device comes with a fixed external screen and a larger, foldable internal screen, plus three rear cameras .
In addition to the great improvement in the design as a whole, Samsung worked to update the already very resistant hinge of the previous version: now the small plastic detail in a "T" shape on the inside of the smartphone gains an improved shape, with a finish that it will further prevent fragments from entering the body of the device.
Another important detail that gives even more resistance to the folding is for the two plastic pieces on the right side of the inner screen edge, allowing the display to never come into real contact with the other half, in addition to softening the closing of the device to offer more durability .
We also have a screen with even thinner edges and, as another great attraction, the circular notch that houses the selfie cameras positioned on the two screens of the Z Fold 2.
Equipped with Qualcomm's Snapdragon 865 Plus, the Z Fold 2 includes up to 12 GB of LPDDR5 RAM and up to 512 GB of high-speed UFS 3.1 storage, offering the best that Samsung can deliver so far.
For the set of rear cameras we have a main sensor with a resolution of 12 MP, equivalent to 26 mm and aperture f / 1.8, a wide-angle lens equivalent to 12 mm with a sensor of 12 MP and a telephoto lens equivalent to 52 mm also with 12 MP. The two selfie cameras housed on the screens are exactly the same at 10 MP sensor.
Samsung maintains the physical biometric reader implemented on the side of the smartphone and integrated with the power button aka side-mounted, offering easy access and extreme speed with accuracy.
The battery is now 4,500 mAh and features fast wire charging of 25W, fast wireless charging by 11W and reverse charging, being able to recharge accessories like the new and old Galaxy Watch and Galaxy Buds.
Galaxy Z Fold 2: specifications
6.23-inch Super AMOLED external display with 25: 9 aspect ratio
Internal 7.6-inch Dynamic AMOLED 2X foldable screen, aspect ratio 5: 4 and 120 Hz
Snapdragon 865 Plus chipset with 5G
12 GB LPDDR5 RAM
256 GB and 512 GB of UFS 3.1 storage
Selfie cameras with 10 MP, fixed focus and f / 2.2
Three main cameras:

12 MP main sensor with f / 1.8 and OIS
12 MP sensor with wide-angle lens
12 MP sensor with telephoto lens

4,500 mAh battery with 25W fast wire charging
11W wireless charging and support for reverse charging
Android 10 with One UI
Galaxy Z Fold 2 Thom Browne Edition
And once again Samsung has collaborated with the luxury brand Thom Browne to present its expensive folding smartphone for a more extreme price category. During the event, it was revealed that the special edition of the Z Fold 2 "combines the elegance of design with the power of technology."
The teaser reveals the exclusive smartphone box, which will include the Galaxy Z Fold 2 itself, with two exclusive covers, the Galaxy Watch 3 with two exclusive bracelets and the Galaxy Buds Live, also with a different finish and a protective case.
Along with the standard edition of Galaxy Z Fold 2, it is expected that more details of the Thom Browne edition such as price and availability will be revealed on September 1.
Samsung Galaxy Z Fold 2 Price in Nepal
Samsung has not yet revealed the price and release date of the Z Fold 2, but the company has assured that information will be revealed on September 1. The company has already released an official page so that users can book the foldable phone and get the details as they become available.
Since the Galaxy Fold and Galaxy Z Flip have never been launched in Nepali market, there is a strong possibility that the new foldable and several other products revealed at Unpacked will also be skipped in the domestic market like before, as most handsets with 5G support are useless until 5G networks are available in Nepal.