CG brings front loading washing machines in Nepali market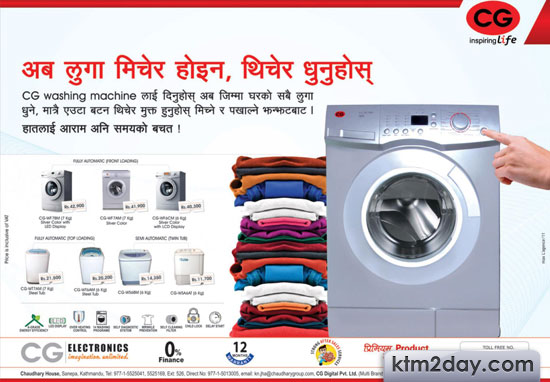 CG has recently expanded its line-up in Front Loading Washing Machines with the new models CG-WF7BM (7 kg) and CG-WF6CM (6 kg).
These are heavy-duty washing machines, it said, adding that packed with Laundry Technology it takes the load of washing completely off one's mind keeping one's skin beautiful forever and refresh ones clothes and life. "The attractive Rustles Body of the product consists of Powerful Motor."
CG, the number-one consumer electronics and home appliances brand, under the umbrella of CG Electronics, has been providing quality products, claimed the company.
CG Front Loading Washing Machines promise absolute care and cleanliness for clothes with wrinkle free care. "Time & Energy Saving Technology is an added advantage when the country is facing electricity crisis," it added.