Nepal gets Bangladesh nod to duty-free access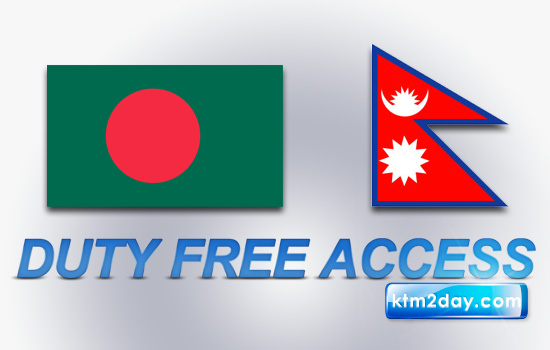 Bangladesh agreed in principle to provide duty-free access for Nepali agriculture products to its market during the Commerce Secretary level talks being underway in Kathmandu, Nepali officials involved in the dialogue said on Sunday.
According to the officials, the Bangladeshi delegates approved Nepal's request for the duty-free access to local vegetables and fruit products in Bangladeshi market. However, it has not been finalised as to which products will get duty-free access.
Nepal had previously sought such facility for 246 Nepali products, including lentils, tomato, spinach and herbs, among others.
Commerce Secretary Lal Mani Joshi, the leader of the Nepali delegation, said the meeting had decided to form a bi-lateral technical committee to take a final decision on providing duty-free access to Bangladeshi market. "The committee will study and decide how many Nepali products out of 246 would get the duty-free access in Bangladeshi market," Joshi said. The committee, led by joint secretaries of the two countries, will submit its report by December this year.
Nepali exporters have been complaining that despite huge demads Nepali agriculture products have been facing difficulty to enter into Bangladeshi market due to high duty.
The Bangladeshi side, however, has asked for trade expansion and tariff cut for Bangladeshi products to five percent. According to the Nepali officials, Bangladeshi side sought tariff cuts on the products, including juice, fish, clothes, tissue paper, electrical goods, pharmaceuticals and cement, among others. Bangladeshi Commerce Secretary Ghulam Hossain is leading their seven-member team. During the meeting, the Bangladeshi side notified the Nepali delegates of Bangladeshi government's decision to issue on arrival visa to Nepalis. "With the Bangadeshi government's move, the Nepali citizens could attain on arrival visa," said Naindra Prasad Upadhyaya, joint secretary at the Ministry of Commerce and Supplies (MoCS).
The meeting also reviewed on the progress on the decision made in the last meeting. The last meeting had focused on the much-anticipated transport connectivity between the two countries for expediting trade, elimination of tariff barriers on commodities of mutual export interests, and duty-free access to market.
Joshi also said that during the meeting the Nepali side asked their counterparts to endorse the transport agreement signed in 2006. The agreement had envisaged connecting Nepal and Bangladesh directly through India.
According to Joshi, Bangladeshi delegates informed the Nepali side that the Bangladeshi government had already upgraded the road connecting Bangladesh's Singhabad and India. "Once the Nepal government signs Railway Treaty with India, Nepal can enjoy direct transportation linkage with Bangladesh." said Joshi, adding that preparation for the Railway Agreement with India had been completed and that the agreement would be signed soon.
The Bangladeshi side also agreed to operate Banglaband Customs in full fledge by upgrading infrastructure. "Likewise, the discussion on building quarantine, cold storage and store house, among others in the border points of two countries also went positively," said another member of the Nepali delegation. "This will help Nepali traders to export their goods."