Nepal to seek Korean support for railway development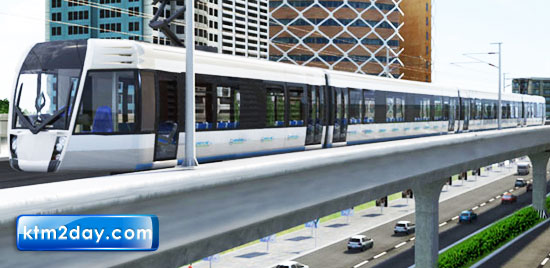 Nepal will seek support from the South Korean government for the development of railway in the country.
A high level government delegation led by the Minister for Physical Planning, Works and Transport Management, Hridayesh Tripathi, is scheduled to leave for Korea on Monday.
The main objective of the four-day visit is to attract Korean aid and investment for the railway network and metro network in the Kathmandu valley, according to the ministry.
The team includes Secretary Tulasi Prasad Situala, Joint Secretary Hari Om Srivastav and Railway Department Director General Ram Kumar Lamsal.
"The visit is focused on exploring opportunities for the metro and railway development with South Korean support," said Minister Tripathi, adding that they would also hold discussions on other infrastructure development and bilateral issues.
Minister Tripathi is visiting Korea at the invitation of Korean Minister for Land, Transport and Maritime Affairs Kwon Do-youp. Tripathi will meet Kwon on Tuesday and request support for railway infrastructure development in Nepal. With the Nepal government prioritising railway, Korean firms have been expressing interest in investing in the development of railway infrastructure, besides conducting studies here.
During the tour, the Nepali team will also visit the Korea Rail Network Authority's headquarters and meet its chairman. It will also meet officials of the Exim Bank of Korea.
During the meetings, the team will discuss the possibility of getting soft loans from the Exim Bank for the construction of the 136-km Bardibas-Simara-Birgunj section of the proposed Mechi-Mahakali Electric Railway or East West Railway. The railway network construction is estimated to cost Rs 200-400 million per km, depending on geography, according to Lamsal.
Korean firm Chungsuk Engineering is preparing the detailed project report (DPR) of the Bardibas-Simara-Birgunj section which is expected to be ready by the next two months.
If the Korean government shows interest, the government can award the contract of building railway sections to Korean firms, ministry officials said. "The whole thing depends on how the Korean government helps Nepal in railway affairs, and on the conditions of the soft loan agreement, if signed," said a ministry official. A feasibility study carried out by RITES India two years ago had estimated the entire project cost at Rs 800 billion.
Meanwhile, the ministry on Friday formally requested the Asian Development Bank (ADB) to carry out the DPR of the proposed metro railway network in the valley and an in-depth feasibility study of the North-South railway link.