Sales of smart, 3D TVs soar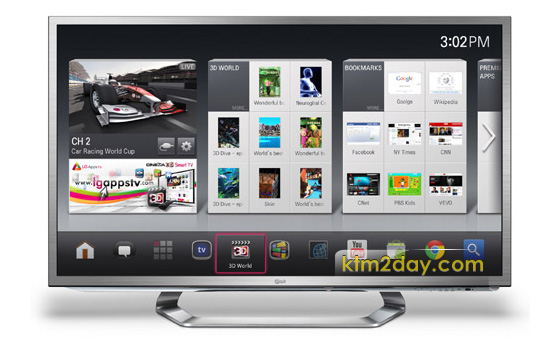 Sales of high-end television sets, especially smart TVs and 3D TVs, have been soaring in the domestic market. Dealers of prominent electronics brands like LG, Sony, Samsung, Toshiba and Sharp, among others, said that sales were growing 20-25 percent annually.
"It hasn't been long that demand for smart and 3D TVs started increasing in the domestic market," said Purushottam Bhandari, sales manager at the LG division of CG Electronics, the sole authorised distributor of LG electronics in Nepal. "Earlier, customers were curious about such televisions sets. However, there were very few buyers. Now, even middle class people are snapping them up."
Due to the increase in demand, CG Electronics now offers four variants of LG TVs which have smart functions. They are available in 32-, 42-, 47- and 55-inches and are priced at Rs 71,000, Rs 152,000, Rs 240,000 and Rs 400,000 respectively. "LG is the number one brand in Nepal when it comes to 3D televisions. Incorporation of smart functionalities in all the devices has made them the people's favourite TV," Bhandari said.
Traders said that sales of such televisions had increased mainly because of a rise in awareness about technology among Nepali customers. While a television set was normally meant to be passed on from generation to generation, the concept now has changed; and people are buying newer products to keep up with the times, traders said.
"The internet has been playing a very large role in human life, and now one can browse the web using a television set. This has also played a crucial role in the growth of smart and 3D TVs," said Binil Bajracharya, general manager, sales and marketing at Nepa Hima Trade Links, the sole authorised distributor of Sony electronics in Nepal.
The increasing use of social networking sites and numerous other applications too has attracted buyers, he said, adding that demand was increasing in both segments—end users and corporate buyers.
Nepa Hima Trade Links presently offers nine varieties of smart TVs which are priced in the range of Rs 91,500 to Rs 530,000. Among them, six models have 3D as well as smart TV functions. As for sizes, they are available from 32 inches to 55 inches.
According to Bajracharya, smart and 3D TV sets are likely to grab a significant share of the market in the next three years. "People's preferences are shifting rapidly, and the desire to upgrade with the technology too is increasing. Smart and 3D TVs have a huge potentiality," he said.
Apart from Kathmandu, demand has been rising in other big cities like Pokhara, Narayanghat, Butwal, Biratnagar, Dharan and Birgunj, according to Bajracharya and Bhandari. "Mostly young people who have a good knowledge of the latest technology are the buyers of such devices," Bhandari added.