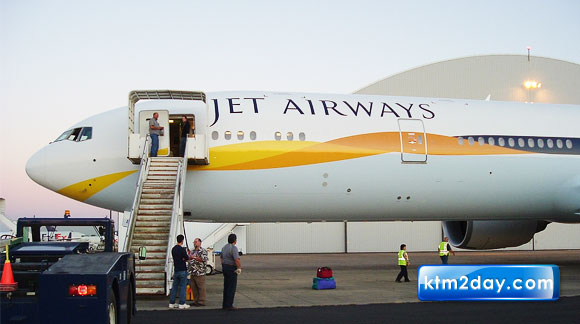 International airlines serving Nepal saw a 5.66 percent year-on-year rise in passenger carriage in the first six months of 2013. During the period January-June, the 27 foreign carriers and two Nepali airlines flew 1.517 million travellers, or 81,306 more than before, said Tribhuvan International Airport (TIA).
Nepal's sole international airport handled on an average 8,430 travellers per day. There were 11,201 international flights through TIA in the first half of 2013, up 3.45 percent. On an average, 63 international airlines took off and landed at TIA.
TIA statistics show that Air India, Fly Dubai and Nepal Airlines and Air Arabia saw the strongest growth in passenger carriage during the review period. Qatar Airways topped the chart carrying 176,339 passengers during this period. However, its passenger occupancy growth dropped 4.20 percent. Air India recorded a significant growth in terms of passenger occupancy. The carrier flew 121,585 passengers in the first half of 2013, up 20.28 percent.
Travel trade officials said that suspension of flights on the Delhi sector by Nepal Airlines Corporation (NAC) and Kingfisher Airlines helped Air India to boost its occupancy. Our Indian carriers, Jet Airways, Air India, Spice Jet and Indigo, were among the top 10 in the first half of this year.
Dubai-based low-cost carrier Flydubai took the fourth spot with a 100.40 percent growth in its passenger occupancy. Flydubai flew 114,690 travellers. The national flag carrier NAC placed fourth with a 12.61 percent growth in occupancy to 112,068 passengers. Indian low-cost carriers Spice Jet and Indigo witnessed a 7.23 percent and 3.26 percent growth in passenger occupancy respectively.
Likewise, UAE-based low-cost carrier Air Arabia saw a 14.13 percent rise in passenger carriage.
Thai Airways and Etihad Airways registered a negative growth of 5.30 percent and 13.17 percent respectively. Hong Kong-based Dragon Air posted a growth of 12.29 percent to 47,290 passengers. Three Chinese carriers—Air China, China Eastern and China Southern—saw their passenger occupancy grow 35.92 percent to 82,470 during the review period.
Two Malaysian-based carriers—Malaysia Airlines and Air Asia—flew 36,630 and 56,787 travellers respectively in the first half of the year.
Similarly, Bhutan-based Druk Air and Singapore-based Silk Air flew 18,880 and 24,728 travellers respectively in the first half of 2013.
Top 10 Passenger Carrier (Jan-June)
| Airline | 2012 | 2013 | Change (in %) |
| --- | --- | --- | --- |
| Qatar Airways | 184,085 | 176,339 | -4.2 |
| Jet Airways | 153,406 | 159,951 | 4.26 |
| Air India | 101,079 | 121,585 | 20.28 |
| Fly Dubai | 57,229 | 114,690 | 100.4 |
| Nepal Airlines | 99,517 | 112,068 | 12.61 |
| Air Arabia | 90,240 | 102,992 | 14.13 |
| Spice Jet | 84,336 | 90,439 | 7.23 |
| Thai Airways | 80,712 | 76,433 | -5.3 |
| Etihad Airways | 74,526 | 64,708 | -13.17 |
| Indigo | 57,627 | 59,507 | 3.26 |