VolksWagen launches new models of Touareg,Scirocco and Beetle in Nepal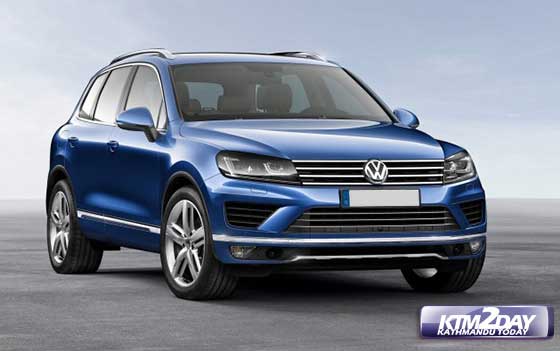 Pooja International Nepal, the authorised importer of Volkswagen vehicles for Nepal, launched three new models of Volkswagen cars at the ongoing NADA Auto Show — new Touareg, new Scirocco and new Beetle.
The new Touareg features the state-of-art, powerful and durable 2967 cc, 176KW (242hp) engine from Volkswagen, which is commonly shared by premium SUV's Porsche Cayenne and Audi Q7, as per a press release.
This flagship SUV is manufactured in the same plant with the same body design platform in Slovakia. Apart from the standard features available in a general SUV, the new Touareg comprises air suspension for comfort which can increase the ground clearance to up to 300 mm, panoramic sunroof, premium leather seats which are electrically adjustable, and Bi-xenon covering headlights for extra visibility for night time driving.
The new Scirocco is a sports compact coupe which has a history dating back to 1974. It houses the advanced 1,390 cc turbo charged petrol engine which produces 118 KW (162 bhp) to accelerate for zero to 100 kmph within 7.8 seconds. It has racing style bucket seats stitched in the finest leather and suspension tuned for speed along with paddle shift controls on steering which churns out the seamless power from DSG gearbox.
Meanwhile, though the earlier generation of Beetle used to have air cooled engines on rear side, the latest Beetle showcases powerful 1,390 cc engine producing 118 KW of power.
The launching prices for the cars are: Touareg 3.0L TDI Exclusive at Rs 18.20 million, Touareg 3.0L TDI Regular at Rs 16.20 million, Scirocco 1.4L TSI at Rs 8.25 million and Beetle 1.4L TSI at Rs 7.85 million.