Etihad Airways celebrates 10th anniversary in Nepal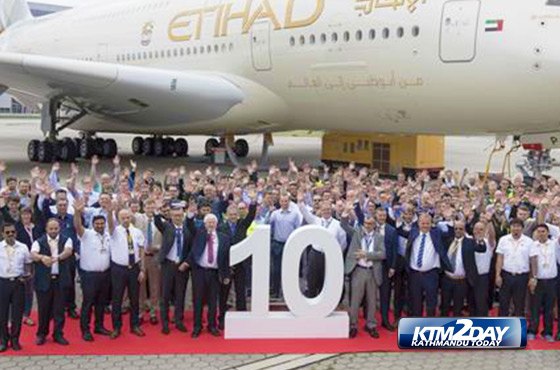 Etihad Airways has honored key stakeholders in Nepal to celebrate the 10th anniversary of the beginning of scheduled flights between Abu Dhabi and Kathmandu.
Issuing a statement on Wednesday, the airline said that it had launched scheduled flights between the capital cities of the United Arab Emirates and Nepal on October 28, 2007 with four flights a week.
The frequency rose to daily in 2010 and two flights a day in 2013. The statement further said that the airline has carried more than 1.2 million guests between the two cities and beyond since 2007.
"Aside from passenger traffic, Etihad Airways has supported the export market of Nepal, with the transport of freight, including cotton, carpets, and handicrafts and coffee to cities around the world," the airline added in the statement.