Rani Pokhari reconstruction work left in limbo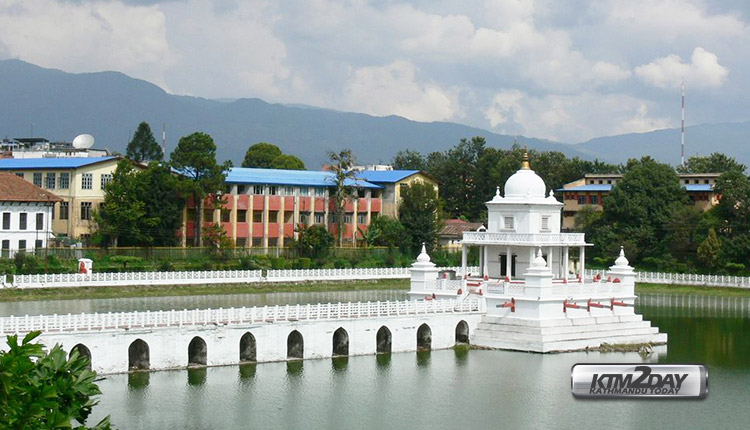 Three years have passed since the President Bidhya Devi Bhandari formally inaugurated the reconstruction of Rani Pokhari on January 16, 2016, however, the pond is nowhere in sight.
Delay in construction is attributed to the dispute among National Reconstruction Authority, Department of Archaeology and Kathmandu Metropolitan City related with construction model.
Moreover, Rs 25 million was spent in constructing a concrete wall around Rani Pokhari, but in vain as the wall was later demolished by KMC following the protest from locals and archeologists. KMC had proposed to change the historic pond into recreational park.
Construction model of Bal Gopaleswor temple that lies in the middle of Rani Pokhari was also disputed. KMC's plan to rebuild the temple in Gumbaz model was protested by the locals. They had demanded that the temple be built as it was built by King Pratap Malla in 1670 in Granthakut model. Some historians argued that the temple was later built in Gumbaz model following the 1934 earthquake.
DOA has finally agreed to rebuild the temple in Granthakut model. National Reconstruction Authority had also formed a special team to prepare blue print of the temple in Granthakut model on October last week.  Both bodies, however, have not formally reached any agreement the construction model. NRA chief Sushil Gyawali said the reconstruction works would go smoothly as all the disputes regarding construction had been resolved.
More than two years after pumping out water from Rani Pokhari for reconstruction, the National Reconstruction Authority had proposed to replenish the pond using bore-well water and supply Melamchi water to maintain water level in the pond.
NRA officials also hinted that Melamchi water could be used to refill the pond, if the plan to refill it with bore-well water didn't work. KMC had hired a private contractor to pump out water and desiccate the pond after the president inaugurated the reconstruction campaign.