Tourist Arrivals in Nepal shows 39% year-on-year growth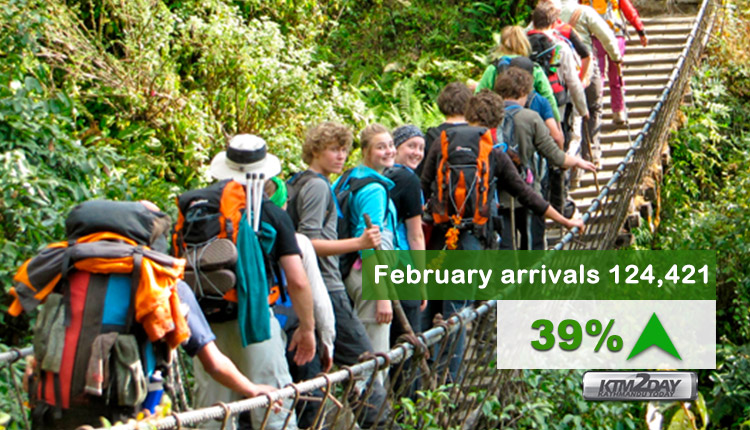 The world's most populous country China became the biggest source of visitors to Nepal in February. According to the Nepal Tourism Board, 16,205 Chinese travellers entered Nepal in February, up 5.3 percent year-on-year.
Travel trade entrepreneurs attributed the growth in visitor numbers from the northern neighbour to the occurrence of the Chinese New Year or Spring Festival on February 5. During the same period, arrivals from India jumped 92.5 percent to 14,571 individuals. Only Indian travellers flying into Nepal are included in the tourist arrivals data.
Total visitor arrivals in February reached 124,421 individuals, a 39 percent year-on-year increase. Among them, 97,694 foreign visitors came by air. Nepal recorded a 33 percent growth in foreign tourist arrivals during the January-February period.
"The growth is the result of massive promotional efforts by the Nepal Tourism Board and the private sector travel trade," said Deepak Raj Joshi, CEO of the country's tourism promotion board. He said that the arrivals target for Visit Nepal 2020 looked achievable considering the 'phenomenal growth' of almost 40 percent in February.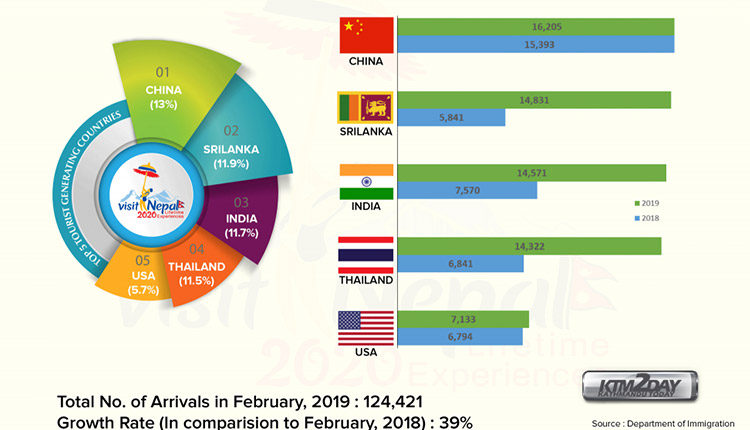 The government has aimed to bring 2 million foreign visitors to Nepal next year. "The board will continue its promotional activities in the international market," Joshi said. As per the board's statistics, Sri Lanka was the second biggest source of visitors to Nepal in February. Nepal received 14,831 Sri Lankan visitors last month. Arrivals from the South Asian Association for Regional Cooperation countries registered the strongest growth of 85 percent to 31,831 arrivals in February compared to the same month last year.
Visitors from Thailand, Japan and South Korea have also increased significantly by 109 percent, 20 percent and 47.2 percent respectively.
European arrivals also surged with healthy growths from key markets. Arrivals from the UK, Germany and France reached 5,268; 3,340 and 1,978 respectively, up 8.7 percent, 27.9 percent and 7.6 percent year-on-year. European arrivals in February totalled 17,789 with a regional aggregated growth of 11.6 percent. The total number of US visitors to Nepal in February amounted to 7,133, an increase of 5 percent year-on-year. Likewise, the number of Australian visitors to Nepal was 2,978 which is 17.4 percent more than in February 2018.
Source:NTB