Xiaomi Mi CC9 Pro is official with first 108 MP camera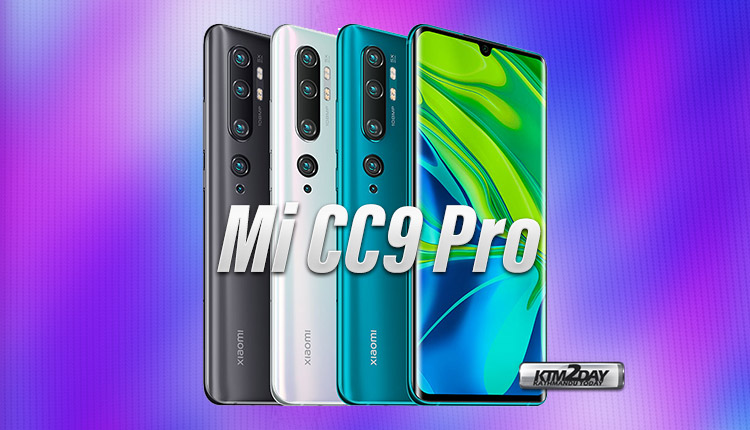 This afternoon, Xiaomi held a new product launch conference in Xiaomi Science and Technology Park. The long-awaited Xiaomi CC9 Pro has been finally launched. The company also launched Mi Watch 5 and Mi TV 5 alongside the CC9 Pro .
The Xiaomi Mi CC9 Pro stands out from its rivals in a number of segments, featuring a modern design with impressive visual impact, exceptional photographic capabilities and an extremely competitive price.
The Xiaomi CC9 Pro represents a mid-range segment smartphone but its main camera stands out from all the flagship smartphones currently available on the market.
The CC9 Pro has the world's first 108 Megapixel camera in a penta-lens setup with optical image stabilization(OIS).
In terms of specifications, this new smartphone will be positioned at the highest level in the mid-range segment, thanks to the Qualcomm Snapdragon 730G processor. However, this is practically its only component in this segment, as everything else is worthy of a real high end.
The Xiaomi Mi CC9 Pro comes with a 6.47 "inch Full HD + AMOLED display, curved ends and small" U "notch. It also supports HDR content and has a high quality optical fingerprint reader from latest generation.
The device is packed with 6GB / 8GB of RAM and 128GB / 256GB of internal memory (UFS 3.0). Powering this fantastic smartphone is an impressive 5,260 mAh battery with support for 30W fast charging. This is the largest battery ever used in a smartphone of the brand.
The biggest feature of the Xiaomi CC9 Pro is of course the rear camera.There is no doubt that the Xiaomi Mi CC9 Pro will make a big difference in the photographic segment, being the first smartphone to hit the market with a 108 megapixel sensor and the second to have a penta rear camera. We can even say that is the first one to consider, since the Nokia 9 PureView was a real flop.
The Mi CC9 Pro has a total of 5 rear cameras, which guarantee unique performance and versatility:
Primary: 108MP sensor 1/1.33-inch sensor with 25mm-equivalent, f/1.69-aperture lens, OIS (27MP output resolution)
Short telephoto: 12.19MP 1/2.6-inch sensor with 50mm-equivalent, f/2-aperture lens
Long telephoto: 7.99M 1/3.6-inch sensor with 94mm-equivalent, f/2-aperture lens, OIS
Ultra-wide: 20.11MP 1/2.8-inch sensor with 16mm-equivalent, f/2.2-aperture lens
Macro: f/2.4 lens designed for close focus from 2 to 10cm (not tested)
For its other specifications and features, you will be able to count on 3.5mm Jack audio input, IR Blaster, Game Turbo 2.0 and MIUI 11. However, it will come with the Android 9 based version.
It is important to emphasize once again that this will be an exclusive model from China (and possibly Asian markets), and the global model will be the Xiaomi Mi Note 10, which will be presented tomorrow in Madrid, Spain. Therefore, prices may eventually change slightly as usual.
Still, the prices revealed today during the event in China should serve to give us a better idea of ​​what we can expect tomorrow.
6GB RAM + 128GB Internal Memory: € 358/ $400
8GB RAM + 128GB Internal Memory: € 397/$440
8GB RAM + 256GB Internal Memory: € 448/$498
Although in China event today, the company has not launched any other variant, it is believed that in the event tomorrow the brand will also feature the Xiaomi Mi Note 10 Pro. This smartphone should have the same specifications as the basic variant, the only variation being will be the presence of the Snapdragon 855+ processor.