Apple Watch Series 7 : Larger Advanced Display, refined design and faster charging
The Apple Watch Series 7 is official. After many rumors, Apple has announced in style the new version of its smartwatch, which is the seventh version of it's smartwatch first launched in 2015.
As rumors have anticipated, the new Apple Watch debuts a new design with a larger screen size. The edges are now 40% smaller than those of the previous model, and the screen is more curved, which makes the new screen somewhat more integrated into the frame.
Also Check :
Apple iPhone 13 and iPhone 13 mini
Apple iPhone 13 Pro and iPhone 13 Pro Max
The Series 7 offers nearly 20 percent more screen area with edges of just 1.7mm, (40% smaller than the Apple Watch Series 6), integrated into a 41mm, 45mm case. In addition, the Retina Always-On display is, according to Apple, up to 70% brighter indoors than that of the Apple Watch Series 6.
In addition, the screen is IP6X certified for resistance to dust, and maintains a WR50 water resistance rating.
New display with interface improvements
Apple has not only increased the screen size, it has also optimized the user interface. It now offers greater readability and ease of use, with larger buttons and more space for content, such as text. The new screen of the Apple Watch Series 7 includes two unique watch faces, Contour and Modular Duo, designed specifically for this model.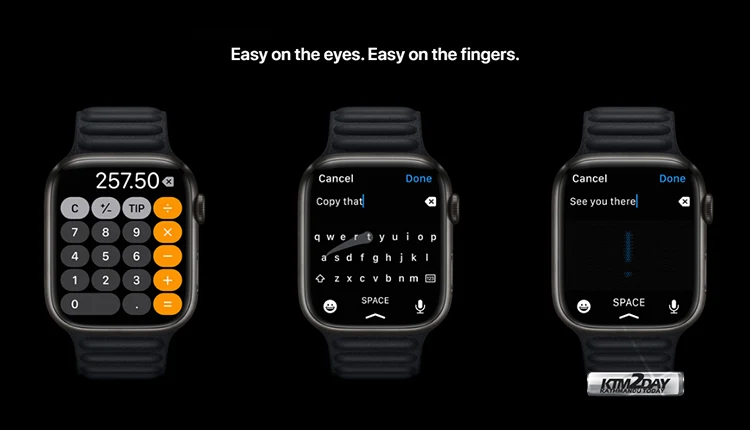 The improvements and growth of the screen also bring with them a new keyboard for the Apple Watch Series 7. The new model offers two larger additional font sizes and a new QWERTY keyboard that can be tapped or swiped with QuickPath. With watchOS 8, larger menu titles and buttons in apps like Stopwatch, Activity, and Alarms also make the screen even simpler to interact with.
Although the screen has grown, Apple says that it has not sacrificed autonomy, since according to the number provided by the company, it offers 18 hours battery life on a single charge. In this regard, Apple has included fast charging that accounts for 33% compared to the charging of previous models. Of course, this fast charging will only be possible using the new USB-C cable with magnetic fast charger.
watchOS 8
watchOS 8 debuts additional watch faces designed specially for the larger display on Apple Watch Series 7. The new Contour face takes the dial right to the edge of the display and fluidly animates throughout the day, emphasizing the current hour. The new Modular Duo face leverages the extra screen area with two large, data-rich center complications. Separately, the classic World Time face, based on heritage watches and ideal for travelers, tracks the time in 24 time zones around a double dial, and is available on Apple Watch Series 4 and later. The Portraits face uses the depth capabilities of iPhone Portrait mode to compose a beautiful, personalized experience.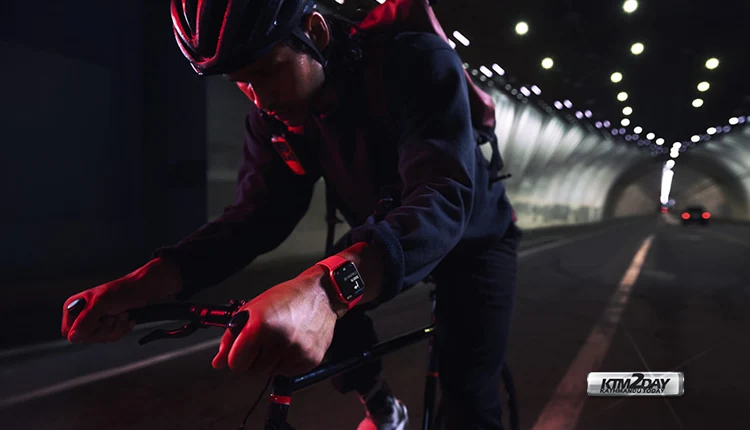 Cycling, Workout, and Fall Detection Updates
watchOS 8 also brings new features to anyone who rides a bike. Apple Watch uses advanced algorithms to analyze GPS, heart rate, accelerometer, and gyroscope data to detect when users begin a ride, and prompts them to start an Outdoor Cycle workout if one was not initiated. As with all automatic Workout reminders, cyclists will see their metrics from when they first started their workout. Additionally, cycling workouts have auto-pause and resume, so metrics more accurately reflect time spent moving versus stationary, like waiting at a stoplight.
Apple Watch can more accurately measure active calories when riding an e-bike, with an updated cycling workout algorithm that evaluates GPS and heart rate to better determine when users are riding with pedal-assist versus leg power alone. New voice feedback through the built-in speaker of Apple Watch, or through AirPods or other Bluetooth headphones, will also automatically announce workout milestones and Activity ring status, helping users stay focused during activities like running or HIIT.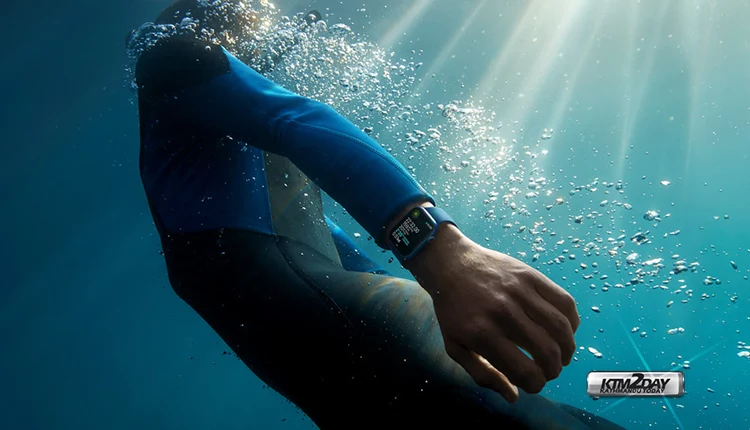 Since its launch in 2018, fall detection on Apple Watch has proven to be a valuable safety tool, recognizing if a user is immobile for approximately one minute if a hard fall is detected, and initiating a call to emergency services right from the wrist. With watchOS 8, fall detection algorithms are updated and optimized for detecting falls during workouts — including cycling — and have been tuned to recognize the unique motion and impact of falls from a bike and other workout types.
Apple Watch Series 7, price and availability
Apple Watch Series 7 is available in five new case finishes for the aluminum version: midnight, green, blue, starlight and the classic (PRODUCT) RED. It will also be available in silver, graphite and gold steel.
All previous straps, as well as new ones, are compatible with all Apple Watch models released to date, including the Series 7.
Although Apple has not given a specific release date, the Series 7 will be available in late fall at a price of $ 399 for the model with aluminum case.