Moto Parilla Tricolore mountain e-bike launched with 100 km range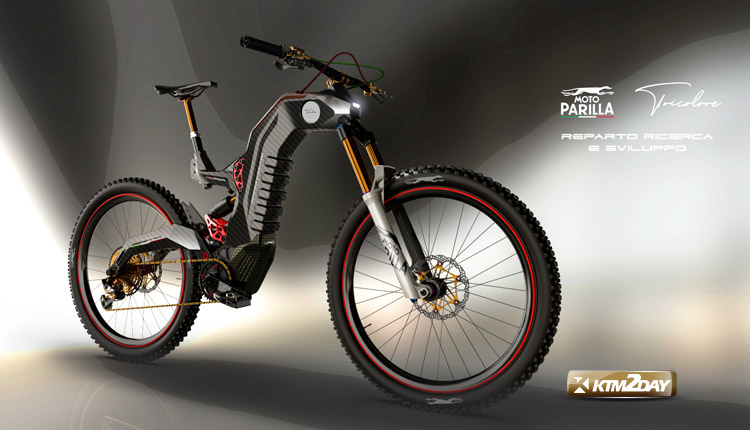 With a top speed of 15.5 mph (25 km/h), the Tricolore is the latest electric mountain bike from Italian company Moto Parilla.
In keeping with its proven course, the Tricolore features a distinctive frame design. Its design is comparable to that of the Trillix, its forerunner.
The electric bicycle boasts cutting-edge design and cutting-edge technology, and it has an assisted range of 62 miles(100km).
Moto Parilla Tricolore is an electric mountain bike with a motorcycle-inspired style. It has a rocker arm and a connecting rod at the back, along with springs and shocks for the front suspension.
Moto Parilla claims that their suspension and braking system improves responsiveness and direct suspension actuation on rides.
Rib patterns on the e-rigid bike's carbon fiber monocoque frame reduce the effect that sluggishness on muddy terrain might otherwise have on the rider.
Additionally, the Tricolore's carbon fiber seat post is detachable from the frame, giving the impression that the bicycle's rear end is floating.
The bicycle is equipped with hydraulic disc brakes and a 12-speed mechanism. The cables are hidden internally for a clean look, and the lights are integrated into the set post and frame.
With its carbon fiber construction, single-sided swingarm, and frame-mounted storage compartment, the Tricolore is well-suited for short trips with just the essentials.
The Tricolore has a 21-kilogram weight and is powered by a 600-watt, 90-newton-meter Poloni E-P3+MX engine that uses 250 watts.
Its 800Wh battery provides a maximum aided range of 62 miles. The Moto Parilla Tricolore has not yet had its availability and price announced.